Blackhawks News
Chicago Blackhawks' Morning Links: Easier Times Ahead?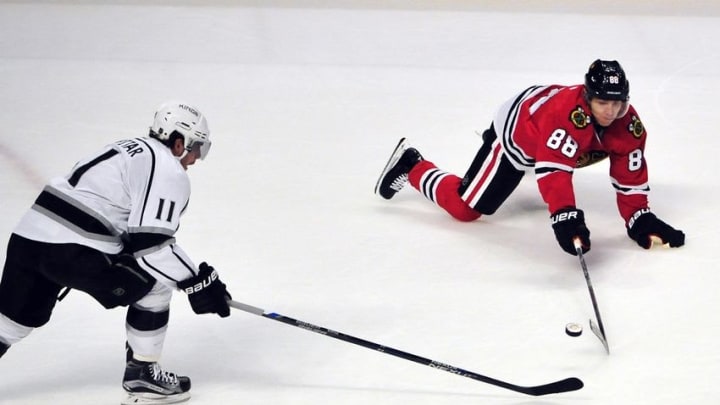 Mar 14, 2016; Chicago, IL, USA; Los Angeles Kings center Anze Kopitar (11) and Chicago Blackhawks right wing Patrick Kane (88) battle for the puck during the first period at the United Center. Mandatory Credit: David Banks-USA TODAY Sports /
Good morning, Chicago Blackhawks fans. Hopefully, you've all been able to wash out of your mouths the taste of last night's 5-0 thumping at the hands of the visiting Los Angeles Kings. The Blackhawks rarely get worked that way on home ice, so it was a very strange scene. But it shouldn't have been terribly surprising, considering what the Blackhawks have — or more so haven't — put on display for us lately.
The defense hit a real low Monday, and Corey Crawford more or less threw his hands up in the air by the time the Kings were adding fourth and fifth goals to their totals. Some fans will bag hard on Crow after another shelling, but the guy can only do so much. Does he need to come up with some big saves he hasn't the last few games? Sure. But maybe if the Blackhawks' offense was actually generating non-powerplay opportunities and the defense was actually … defending, Crow wouldn't need to make as many huge stops as have been required of late.
Of course, the previous three outings — a shootout loss in St. Louis and back-to-back routs against Dallas and Los Angeles — does not infuse confidence into the fan base, considering going through all three teams to get out of the West is a distinct possibility. But it's March, and the Blackhawks have time to tinker with things and get better for about a month from now. In some cases, however, Joel Quenneville's tinkering may not be enough. We'll see.
I'll try to highlight some of the issues I've noticed of late in a post this afternoon (fair warning, I'm going to talk about the defense for the 30,000,000th time this season), but for now, let's look ahead.
The Philadelphia Flyers come to town Wednesday for a "Rivalry Night Game" and to conclude a season series that wasn't just jammed into a week, like some of the Blackhawks' Eastern Conference series have been this season (Montreal, Pittsburgh, Detroit). It's the start of a chance for the Blackhawks to get healthier as far as points and overall outlook. While Philly is fighting for a playoff spot, somehow, the Blackhawks are a superior team, especially on their own ice.
After the Flyers come the Jets, Wild, Stars, Flames, Canucks and Wild again before the month ends. Definitely several good chances at two points on that list, and that's what the Blackhawks need to focus on with the Central Division race still tight despite recent woes.
Now, let's move on to the morning links.
Finish 11th? Chicago Sun-Times
Just lose the dopey fourth-line forward. The Star (Toronto)
That camera thing … probably a good idea. Yahoo! Sports
Ill-advised, but effective. Yahoo! Sports
He hadn't already? Sportsnet
Well this is … cute. SB Nation