Blackhawks News
Chicago Blackhawks' Top 10 Season Moments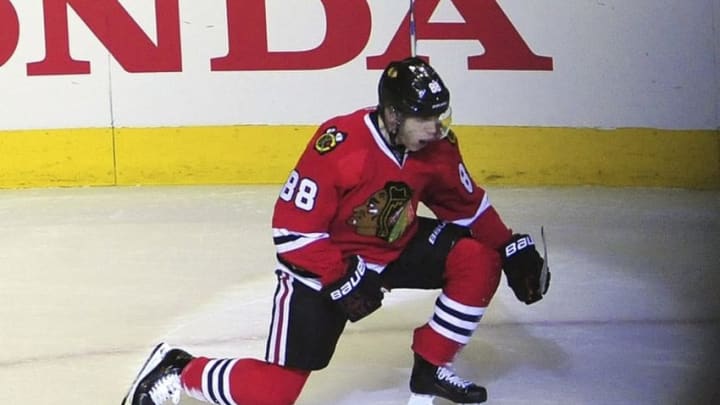 Apr 3, 2016; Chicago, IL, USA; Chicago Blackhawks right wing Patrick Kane (88) celebrates his goal against the Boston Bruins during the first period at the United Center. Mandatory Credit: David Banks-USA TODAY Sports /
Every season has its ups and downs, and the Chicago Blackhawks 2015-16 season was no exception.  The team finished on a bit of a down note, having lost their last two tilts in overtime.  But they also started both these games very well, and were missing a number of key players due to injury/suspension/rest.
Once again the Hawks are playoff bound, having finished third in the Central Division with 103 points.  As we all know, they will meet the St. Louis Blues in the first round later this week.  But before we get to the season that really counts, let's take a look at 10 of the best moments from the first 82 game grind.
10.  Panarin's first goal. Artemi Panarin was a Russian hockey player that was a star in his native league, the KHL.  He decided to give things a shot in the NHL, and signed with the Chicago Blackhawks on May 1, 2015.  He was highly touted to be very similar to Patrick Kane, and he started out with a bang.
The Hawks played their first regular season game on October 7th against the New York Rangers.  Panarin scored his first NHL goal in the first period of this game.  It was also the first goal scored for the Chicago Blackhawks, and he scored it on his first shot on goal.
More from Blackhawks News
9.  Kane's point streak. Patrick Kane scored an empty net goal against the Columbus Blue Jackets on October 17th.  He then proceeded to earn at least a point in the next 25 games, which ended against the Colorado Avalanche on December 15th.  This 26 game point streak was the longest ever by an American-born player.  It was also the longest in Chicago Blackhawks history, and by any other active NHL player.  The Chicago Blackhawks record was 15-7-4 during Kane's streak.
8.  12 game win streak. Starting with a win against the Arizona Coyotes on December 29th, the Chicago Blackhawks won 12 games in a row.  This ended when they lost to the Tampa Bay Lightning on January 21st.  These 12 games (and 24 points) helped to propel the team to the top of the standings in the Western Conference, and it is also a Chicago Blackhawks franchise record for most wins in a row.
Next: Top 7