Blackhawks News
Chicago Blackhawks: Patrick Kane's Overtime Winners Ranked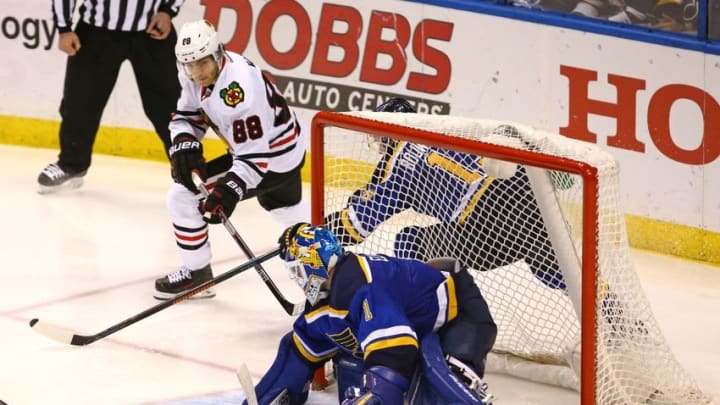 Apr 21, 2016; St. Louis, MO, USA; Chicago Blackhawks right wing Patrick Kane (88) wraps a shot around the back of the net against St. Louis Blues goalie Brian Elliott (1) during the second overtime period in game five of the first round of the 2016 Stanley Cup Playoffs at Scottrade Center. The Blackhawks won the game 4-3 in double overtime. Mandatory Credit: Billy Hurst-USA TODAY Sports /
Apr 21, 2016; St. Louis, MO, USA; Chicago Blackhawks right wing Patrick Kane (88) passes the puck during the first period in game five of the first round of the 2016 Stanley Cup Playoffs against the St. Louis Blues at Scottrade Center. The Blackhawks won the game 4-3 in double overtime. Mandatory Credit: Billy Hurst-USA TODAY Sports /
Blackhawks' Patrick Kane Keeps Overtime Success Coming
With Thursday night's double-overtime goal to give the Chicago Blackhawks a 4-3 win in Game 5 of an opening-round Stanley Cup Playoffs matchup against the St. Louis Blues, Patrick Kane now sits tied for third place in all-time playoffs overtime goals with five. Kane joins Glenn Anderson in third, and trails Maurice 'Rocket' Richard (six) and Joe Sakic (eight) on the all-time list.
Check it out: Blackhawks force Game 6 vs. Blues
With Game 6 set for a 7 p.m. Central time start tonight (hooray!), let's take a look and rank all five of Kane's overtime winners. Simple criteria for these rankings:
Style of the goal
Importance of the goal
The celly
5. Patrick Kane Eliminates Minnesota Wild (May 13, 2014)
In the second round of the 2014 Stanley Cup Playoffs, the Blackhawks were taking on the Minnesota Wild. In overtime of Game 6 in Minnesota, the Blackhawks had a fortunate bounce go their way.
Peter Regin (remember him?) made a great play to tie up a Wild defender, and Kane had an open lane to the net. Beautiful forehand-backhand move, and Ilya Bryzgalov couldn't stop the puck from going in and the Blackhawks from moving to the Western Conference finals.
Pretty subdued celebration for having just won the series and moving on to the Western Conference finals, but for the Blackhawks recently, getting past the Wild in the Stanley Cup Playoffs has been par for the course.
Next: No. 4: Dumping The Blues In 2014