Blackhawks News
Chicago Blackhawks: Patrick Kane's Overtime Winners Ranked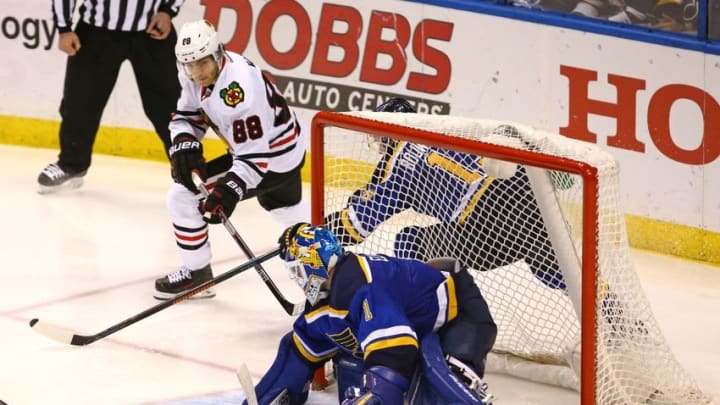 Apr 21, 2016; St. Louis, MO, USA; Chicago Blackhawks right wing Patrick Kane (88) wraps a shot around the back of the net against St. Louis Blues goalie Brian Elliott (1) during the second overtime period in game five of the first round of the 2016 Stanley Cup Playoffs at Scottrade Center. The Blackhawks won the game 4-3 in double overtime. Mandatory Credit: Billy Hurst-USA TODAY Sports /
Apr 21, 2016; St. Louis, MO, USA; Chicago Blackhawks right wing Patrick Kane (88) wraps a shot around the back of the net against St. Louis Blues goalie Brian Elliott (1) during the second overtime period in game five of the first round of the 2016 Stanley Cup Playoffs at Scottrade Center. The Blackhawks won the game 4-3 in double overtime. Mandatory Credit: Billy Hurst-USA TODAY Sports /
3. Patrick Kane Keeps Blackhawks Alive Against Blues (Thursday)
You all saw this Thursday night (Friday morning), if you were able to stay awake, and know that the job still needs to get done. But, what a way to finish a game.
Down three games to one against the Blues in St. Louis, the Blackhawks squandered a 3-1 lead in the third period and needed one full overtime and part of a second to fend off elimination. Kane, again, showed why he is the Mayor of Dangle City.
Kane took a pass from Richard Panik, shook former teammate Troy Brouwer out of his jock, put a shot on net that trickled through Brian Elliott's pads and wrapped around the net to finish off his fifth career Stanley Cup Playoffs overtime winner.
The Blackhawks were able to stay alive to host a Game 6 back in Chicago. Again, vintage Kane celebration, and the Blackhawks have life.
Next: No. 2: Hat Trick And A Cup Bid