Blackhawks News
Chicago Blackhawks: Patrick Kane's Overtime Winners Ranked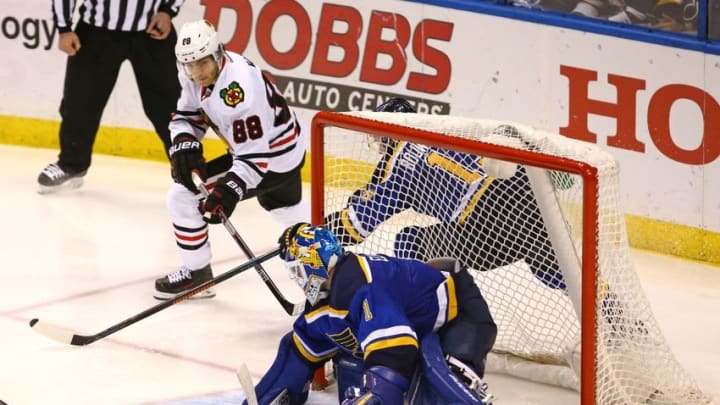 Apr 21, 2016; St. Louis, MO, USA; Chicago Blackhawks right wing Patrick Kane (88) wraps a shot around the back of the net against St. Louis Blues goalie Brian Elliott (1) during the second overtime period in game five of the first round of the 2016 Stanley Cup Playoffs at Scottrade Center. The Blackhawks won the game 4-3 in double overtime. Mandatory Credit: Billy Hurst-USA TODAY Sports /
Oct 21, 2014; Chicago, IL, USA; Chicago Blackhawks right wing Patrick Kane (88) reacts after scoring a goal against the Philadelphia Flyers during the third period at United Center. The Chicago Blackhawks defeat the Philadelphia Flyers 4-0. Mandatory Credit: Mike DiNovo-USA TODAY Sports /
1. Patrick Kane Gives Blackhawks First Stanley Cup In 49 Years (Jun 9, 2010)
What more can one say about an overtime game-winning goal in an elimination game in the Stanley Cup Final? Broadcaster confusion aside, this is one of the more memorable finishes to a Stanley Cup Final series ever.
More from Blackhawks News
Kane would receive a pass from Brian Campbell on the left side board, put a few fakes on future teammate Kimmo Timonen and slap the puck through the legs of another future teammate, Michael Leighton. The goal ended the Stanley Cup Final series, ended the Blackhawks' franchise drought of 49 years without a Stanley Cup championship and started a new age of hockey in Chicago with Kane as one of the central figures in the city's sports landscape.
The celebration of winning a Stanley Cup cannot be measured, but this one is fun because only half of the Blackhawks even knew what was going on. As Kane rushes down the ice to celebrate with goaltender Antti Niemi, many of the Blackhawks leaving the bench were looking back at the Flyers' net to see where the puck was or if there was a good-goal call from the referees. Ultimately, the puck was found under the net padding and the Blackhawks were Stanley Cup champions.
Next: Foley Right, Bettman Wrong On Start Times
So what do you think of the rankings? What order do you put Kane's five overtime winners in? Let us know in the comment section below.