Blackhawks News
Chicago Blackhawks Artemi Panarin Named Calder Finalist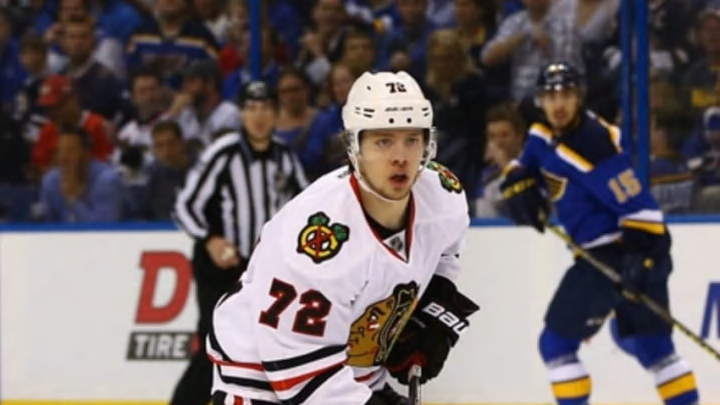 Apr 21, 2016; St. Louis, MO, USA; Chicago Blackhawks left wing Artemi Panarin (72) in action during game five of the first round of the 2016 Stanley Cup Playoffs against the St. Louis Blues at Scottrade Center. The Blackhawks won the game 4-3 in double overtime. Mandatory Credit: Billy Hurst-USA TODAY Sports /
Chicago Blackhawks Artemi Panarin is named one of three Calder Trophy Finalist
The announcement tonight was by no way a surprise, so the obvious statement is the fact that Chicago Blackhawks Artemi Panarin would be a Calder Trophy Finals awarded to the NHL Rookie of the year.
The real question was who would be the other two joining him as finalist, and Team Canada and by team Canada I mean the entire country's favorite rookie Connor McDavid was named one of the other two finalist. Granted McDavid would have won the award no matter what the statistics had to say if he hadn't broke his clavicle forcing him to miss nearly half the season.  McDavid in 45 games scored 16 goals and added 32 assists for 48 points with a -1 rating.
The other finalist is Philadelphia Flyers Shayne Gostisbehere who helped turn the Flyers season around, and in the end helped lift them into the playoffs while leaving the Boston Bruins home for the Stanley Cup playoffs.
Gostisbehere played in 64 games scoring 17 goals and 29 assists, he also had 5 game winning goals.  In any other season I would say that Gostisbehere would win the Calder Trophy, but this wasn't just any other type of season.
More from Blackhawks News
Artemi Panarin
had the reputation before coming to the Chicago Blackhawks as the Russian
Patrick Kane
, and he didn't disappoint even from the very beginning when he scored on opening night against the New York Rangers.
Panarin didn't just stop on opening night, but he kept on going all season long making the named "2nd Line" the real #1 scoring line for the Chicago Blackhawks.  Panarin not only played like Patrick Kane, he made #88 a better player helping the Chicago Blackhawks superstar reach heights he had never seen before.  Kane scored 106 points, but most of that you can point back to being on the same line as Panarin.
There were times when you swore you were watching the Harlem Globetrotters on ice with Panarin and Kane dangling with the puck and the opposition without an answer.  It looked like Panarin had possibly hit a rookie wall and then on a night in New York the Chicago Blackhawks rookie only picked up a road hat trick.
The one argument against Panarin winning the Calder trophy is that he's 24 and had played for years in the KHL, but the NHL doesn't recognize that and by the rules he's a rookie and his season of 30 goals and 47 assists was far and away the best rookie this season and deserving of the Calder Trophy.
Next: Seabrook rumor.. Not Really??
What do you think? Who's your Calder Winner this year?