Blackhawks News
Chicago Blackhawks Morning Links- Star Wars Day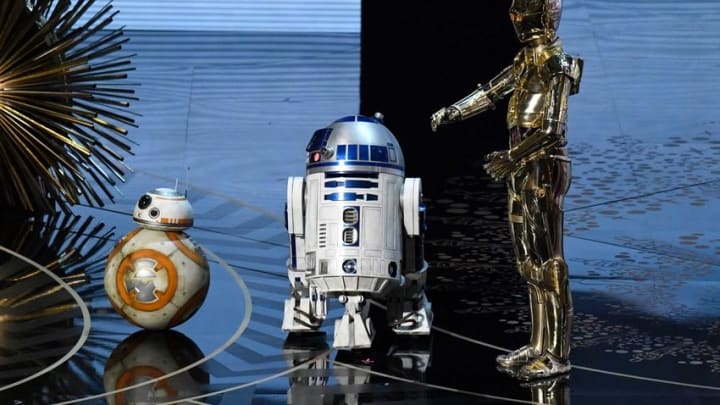 Feb 28, 2016; Hollywood, CA, USA; (From left to right) Star Wars droid characters BB8, R2D2 and C3P0 appear on stage during the 88th annual Academy Awards at the Dolby Theatre. Mandatory Credit: Robert Deutsch-USA TODAY NETWORK /
Good Morning Chicago Blackhawks Fans!
Well, Chicago Blackhawks fans this date usually passes by without much fanfare for us since we are normally in the middle of  covering the Chicago Blackhawks Stanley Cup playoff run, but this year the Chicago Blackhawks season was cut short after only one series so now it's time to look at things we miss during those long playoff runs.
One thing is to today, May the Fourth Be With You is in a string of days that the date is "holiday".  Today is a fun day for Star Wars fans especially now with another movie out there which we watched the other night…again.  I never really watched any Star Wars movies as a kid, but since the new ones came out I've watched them all since my kids really liked them.
The point is that as fun as it is to talk about these dates, I would really rather be talking about the Dallas Stars right now and Game 4-7 which the Chicago Blackhawks normally dominate.  Hopefully this is just one spring of not watching hockey and not a bad trend. Everyone talks about this being a blessing in disguise, but the only problem is we won't know the return of this theory until next year.
More from Blackhawks News
Here are some Chicago Blackhawks Morning Links to Kick Off Your Star Wars Day
The Chicago Blackhawks Fan Choice Awards are in full swing and here are your chance to vote for best defenseman (Blackhawks)
Here's a quick look at which Chicago Blackhawks will be representing their countries at this years World Championships (Committed Indians)
Chicago Blackhawks forward Artem Anisimov had successful wrist surgery that will have him on the mend for 6-8 weeks which sounds like a bad summer break (Madhouse Enforcer)
It was no surprise that Artemi Panarin was named Calder Trophy Finalist and here is some video evidence of his great season (CSN)
Why the Chicago Blackhawks are at a crossroads after getting bounced by the St. Louis Blues (Daily Herald)
Will the Chicago Blackhawks make a significant trade this offseason or will Stan Bowman works his magic (In-SportsBlog)
More from Blackhawk Up
Speaking of teams at the crossroads, the Colorado Avalanche need to establish an identity or it will be more years of disappointment ahead (Mile High Sticking)
Next: More North Dakota Players On the Way?
The St. Louis Blues unleashed the beast at the Dallas Stars in Game #3 of the Stanley Cup Western Conference Semi-Finals (Bleedin Blue)