Blackhawks News
Watching The Playoffs Without The Chicago Blackhawks: Random Thoughts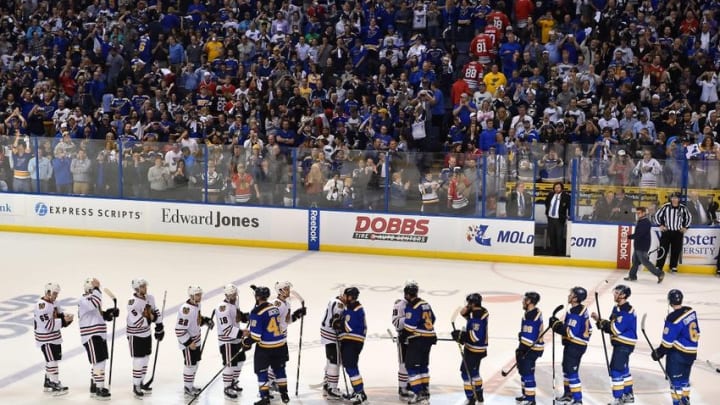 Apr 25, 2016; St. Louis, MO, USA; St. Louis Blues and Chicago Blackhawks teammates line up to shake hands after St. Louis Blues defeat the Chicago Blackhawks 3-2 in game seven of the first round of the 2016 Stanley Cup Playoffs at Scottrade Center. Mandatory Credit: Jasen Vinlove-USA TODAY Sports /
Apr 25, 2016; St. Louis, MO, USA; St. Louis Blues and Chicago Blackhawks teammates line up to shake hands after St. Louis Blues defeat the Chicago Blackhawks 3-2 in game seven of the first round of the 2016 Stanley Cup Playoffs at Scottrade Center. Mandatory Credit: Jasen Vinlove-USA TODAY Sports /
The reality has definitely set in by now.  The 2016 Stanley Cup playoffs have carried on, and our beloved Chicago Blackhawks aren't a part of them anymore.  Has everyone gotten through the grieving process yet?  First there is denial.  I, for one, didn't really believe the Hawks were out of it until last Friday, when the Dallas Stars and the St. Louis Blues played in Game 1.  Then there was anger.  Flipping Troy Brouwer!  Why does he have to be playing so well?!  Next came bargaining.  If only Chicago had a better defense; they wouldn't be in this position right now.  Then came depression.  The hubby and I put all our Chicago Blackhawks jerseys in the back of the closet.  I felt like we were getting ready for a funeral.  Finally came acceptance.  Well, there's always next year.
More from Blackhawks News
So, there are multiple ways to move on.  Some fans might refuse to watch anymore hockey until October.  Others might take the half-hearted approach.  The "ball and chain" is a prime example of this.  After dinner, he'll turn on whatever playoff game happens to be airing that night.  He'll watch for a while, and curse a little bit about the plays and/or calls.  Then he'll proceed to start snoring on the couch.  If he remembers, he'll check to see who won the next day.
I've gotten to where I find myself intrigued by the game, albeit slightly annoyed with the loud snoring next to me.  I guess I know that I've finally reached that acceptance phase.  My love for hockey really does go beyond the Chicago Blackhawks.  Yes, of course I'm disappointed they're done.  But man, there's still some really great hockey going on!  It's kinda hard not to get sucked in.
Next: Next Page