Blackhawks News
Watching The Playoffs Without The Chicago Blackhawks: Random Thoughts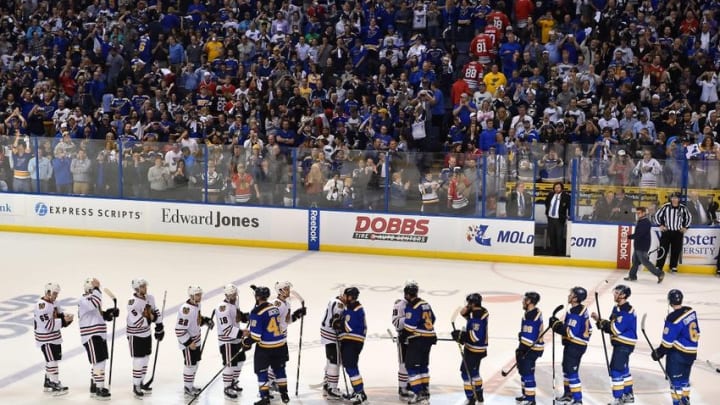 Apr 25, 2016; St. Louis, MO, USA; St. Louis Blues and Chicago Blackhawks teammates line up to shake hands after St. Louis Blues defeat the Chicago Blackhawks 3-2 in game seven of the first round of the 2016 Stanley Cup Playoffs at Scottrade Center. Mandatory Credit: Jasen Vinlove-USA TODAY Sports /
May 7, 2016; Washington, DC, USA; Washington Capitals left wing Alex Ovechkin (8) and Pittsburgh Penguins left wing Chris Kunitz (14) are involved in a scrum after a whistle in the third period in game five of the second round of the 2016 Stanley Cup Playoffs at Verizon Center. The Capitals won 3-1 as the Penguins lead the series 3-2. Mandatory Credit: Geoff Burke-USA TODAY Sports /
Apparently the NHL and the TV networks have found their way to make up for all the ratings they're losing without the defending champion Chicago Blackhawks involved.  It's called blatant favoritism towards the Eastern Conference.  Or more specifically, the Washington Capitals and the Pittsburgh Penguins.   Since the playoffs started, the Caps and the Pens have had a night all to themselves three times!  That's right, no other games.  Nothing like shoving Alex Ovechkin versus Sidney Crosby down our throats!  Oh, and let's not forget the Caps/Pens Game 5 had the prime-time slot this past Saturday night right after the Kentucky Derby.
And the Tampa Bay Lightning and the New York Islanders (hm, also from the Eastern Conference) have had a night to themselves as well as this past Sunday to themselves.  Meanwhile, last Tuesday, three games all aired on the same night.  Is this making any sense to anyone else?  Oh well, maybe if the Hawks were still in it they'd get nights to themselves as well.  But here I am reverting back to the bargaining stage.  I digress.
I guess we should talk a little bit about this "sensational" Capitals/Penguins matchup.  I'll admit it's true that these two teams have lived up to expectations and put on quite a show.  Physical play, suspensions, injuries, really tight games, and two overtimes.  Lots of suspense.  The only unexpected part was when the Pens went up in the series 3-1.  After all, the Caps were Stanley Cup favorites going into all this.  Well, it's not over yet; the Capitals won Saturday night to avoid elimination.  Can they manage to win one more on the road to force a Game 7?
Next: Next Page