Blackhawks News
Chicago Blackhawks: 5 Reasons Blues' Deep Run Is Motivating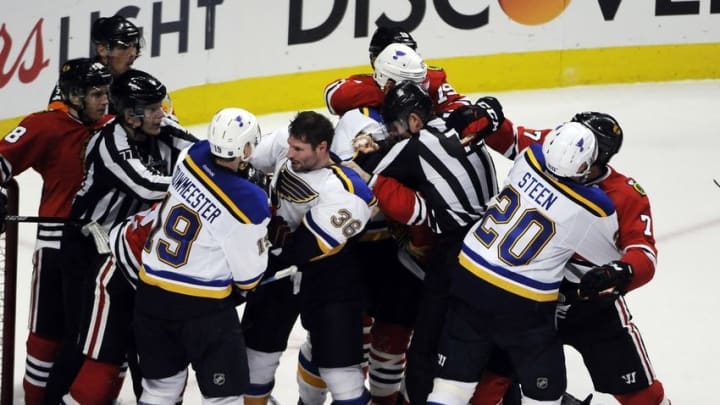 Apr 19, 2016; Chicago, IL, USA; The Chicago Blackhawks and St. Louis Blues scrap after game four of the first round of the 2016 Stanley Cup Playoffs at United Center. The Blues won 4-3. Mandatory Credit: David Banks-USA TODAY Sports /
Apr 19, 2016; Chicago, IL, USA; The Chicago Blackhawks and St. Louis Blues scrap after game four of the first round of the 2016 Stanley Cup Playoffs at United Center. The Blues won 4-3. Mandatory Credit: David Banks-USA TODAY Sports /
Blues' Postseason Run Good For Chicago Blackhawks
The St. Louis Blues have been the surprise of this year's playoffs. They went through the Chicago Blackhawks, a team that has won three three Stanley Cups in six years, and they went through the Dallas Stars in seven games. The Blues beating the Stars was even more surprising than the Blues beating the 'Hawks, considering that the Stars were easily the best team in the Central Division, and who looked almost untouchable at times during the season.
With all the success this Blues team is currently having, there is room for a spin-zone for the Chicago Blackhawks. So now, here are five reasons why the Blues' deep run in the playoffs will motivate the Blackhawks.
More from Blackhawks News
The Blackhawks finally have a rival again
Ever since the Vancouver Canucks became irrelevant, the Blackhawks have been in a place I like to
call "Rivalry Limbo," and yes feel free to use that. Allow me to explain. Back in the 2000s, the clear rival for the 'Hawks were the Detroit Red Wings. "Detroit Sucks" chants would come cascading down from the 300 level, and the games just seemed to be straight up hostile. No matter how good or bad the 'Hawks were, they always got up for that game and played like the Stanley Cup was in the building. They were motivated no matter what the calendar said.
While this rivalry was happening, the Vancouver Canucks became the next hated team for the 'Hawks. The line brawl in 2009 just screamed "We'll see you in the playoffs." Then the Canucks and 'Hawks met three straight years in the playoffs. Those games were the definition of hostile. And in the subsequent years of 2010, 2011, 2012 and 2013, the Canucks' and 'Hawks' regular-season games were hostile, and the 'Hawks were motivated.
Then something happened. The Red Wings moved to the Eastern Conference and the Vancouver Canucks became bad. Since the end of the Canucks rivalry, the 'Hawks have not really had a team that they straight up despise and have games against in which they are
motivated,
even if the calendar said October. With the Blues going deep and knocking out the 'Hawks in seven, this should be the beginning of the revitalization of the Blues-Blackhawks rivalry. The 'Hawks should be
motivated
the beat the Blues, the games should feel extremely hostile and the rivalry should make a return to your father's Blues-Blackhawks rivalry.
Next: Motivation Is Key