Blackhawks News
Chicago Blackhawks: 5 Reasons Blues' Deep Run Is Motivating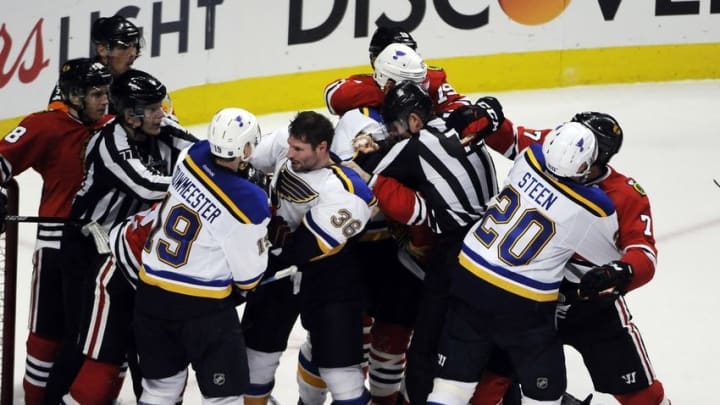 Apr 19, 2016; Chicago, IL, USA; The Chicago Blackhawks and St. Louis Blues scrap after game four of the first round of the 2016 Stanley Cup Playoffs at United Center. The Blues won 4-3. Mandatory Credit: David Banks-USA TODAY Sports /
Apr 25, 2016; St. Louis, MO, USA; St. Louis Blues center David Backes (42) and Chicago Blackhawks goalie Corey Crawford (50) shake hands after the St. Louis Blues defeat the Chicago Blackhawks 3-2 in game seven of the first round of the 2016 Stanley Cup Playoffs at Scottrade Center. Mandatory Credit: Jasen Vinlove-USA TODAY Sports /
If the Blackhawks aren't motivated, they won't stand a chance
This reason might be one of the most cliche phrases of all time, but hang with me here. Remember back in 2014 when the 'Hawks were one shot away from going to the Stanley Cup and subsequently demolishing the New York Rangers? Then that didn't happen and the 'Hawks went on a huge run in 2015 to win the Cup? Well that is what might happen with the Blues.
I see these playoffs playing out in one way. The Final will probably the the St. Louis Blues vs. Pittsburgh Penguins. In case you have not been watching the Eastern Conference this postseason, the Penguins are scorching hot and probably the best team remaining. If the Blues happen to get past the Sharks — they probably will — they will hit a brick wall in the Penguins. In which case, the Blues will come out flying out of the gates next season because they want to go back to where they were this season. And if the 'Hawks take the Blues lightly, they will get swept in the season series.
Plus, if the Blues do happen to win the Cup, you know the 'Hawks will be motivated to beat the team that knocked them out of the playoffs, then went on to win the Cup. All the players would be thinking is "that could have been us."
This Blues team is not the Blues team fans are used to
For the past three or four years, the Blues have been the laughing stock of the Stanley Cup Playoffs. They would be phenomenal during the regular season, and then it would all hit the fan once the field went to 16 teams. This season was their exorcism.
As we all know, they defeated the 'Hawks and finally got over the hump. It seemed like before this season, teams could always just kind of walk through the Blues in the first round of the playoffs. The Blues would always choke and they could never really strike fear in other teams. But this is a completely different Blues team. In order to conquer their physicality and type of play, the 'Hawks will need to start being motivated to play this Blues team.
Next: Experience Is Key, Too