Chicago Blackhawks Morning Links- Never Forget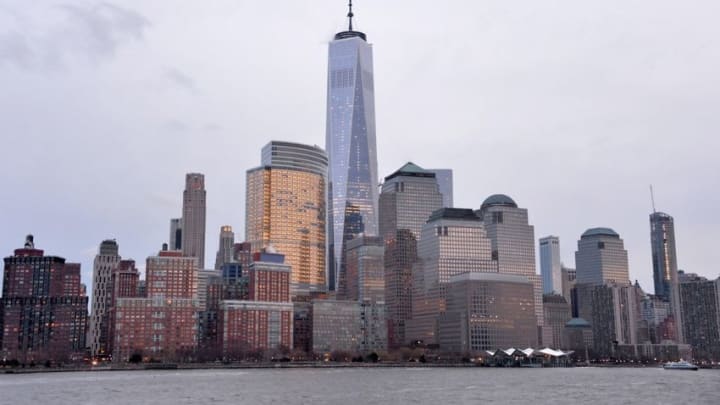 Feb 20, 2016; New York, NY, USA; General view of the Freedom Tower (World Trade Center) and the Manhattan skyline along the Hudson River. Mandatory Credit: Kirby Lee-USA TODAY Sports /
Good morning Chicago Blackhawks fans! On this Day of September 11th we as Americans can Never forget what happened on this tragic day back in 2001.
Unlike all of the other days we remember as Americans, 9/11 is one that most everyone reading this blog actually remember where they were when the attacks on the World Trade Center took place.
Where we were at and what we were doing is irrelevant to what actually happened on this day 15 years ago.  Thousands lost their lives on this day, and we became United once again as a country for one cause.
When you look back at how sports and the tragedy are intertwined, all you have to do is look at the documentary of how much pressure George Bush had when throwing out the first pitch at the first baseball game after 9/11.
Every year on 9/11 I end up watching the History Channel all day long watching the documentaries about that day and how much we have changed as a country since that day and how many people lost their lives during this terrorist attack.
Of course there were so many heroes that day from the passengers on United Airlines Flight #93 that crashed that jet before it crashed into another target, to all the New York Policeman and Firefighters who were on the scene on 9/11.
I've been to the World Trade Center Memorial and it is a place that's hard to describe, but it's a place everyone should visit at least once to help them never forget this day.
Our country is the greatest ever  and how we rebuilt after 9/11 proves why we are such a great country.  Looking back is good thing, but as we never forget, Always remember to look forward.
Yes, this is a hockey blog and there will be some links to start your Sunday morning, but Never Forget!
More from Blackhawks News
America marks the 15th anniversary of 9/11 attacks (Fox News)
Patrick Kane led Team USA to a victory over Team Canada in their warm up game (Blackhawks)
Watch as Niklas Hjalmarsson break Erik Karlsson's ankles in a World Cup practice (Second City)
World Cup injuries are a huge concern to the Chicago Blackhawks and teams around the NHL (Tribune)
Rising stars around the NHL looking to become cornerstones of franchises this season (Bleacher Report)
John Tortorella is already challenging his Team USA at the World Cup (Pro Hockey Talk)
Next: Patrick Kane Facing Pressure
Today is the first day of football, but in the end we can't Never forget what happened on this day in 2001.