Chicago Blackhawks Morning Links- Not Very Offensive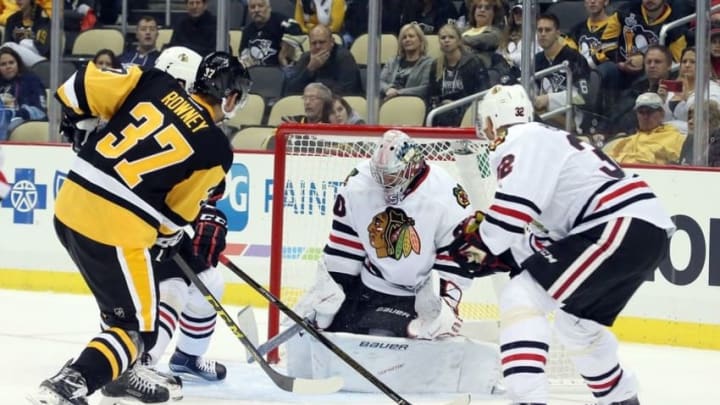 Sep 30, 2016; Pittsburgh, PA, USA; Chicago Blackhawks goalie Mac Carruth (60) makes a save against Pittsburgh Penguins forward Carter Rowney (37) during the third period in a preseason hockey game at the CONSOL Energy Center. The Penguins won 1-0. Mandatory Credit: Charles LeClaire-USA TODAY Sports /
Good morning Chicago Blackhawks fans! The Chicago Blackhawks have faced the Pittsburgh Penguins twice this preseason with a Rockford Ice Hogs team, and at the end of both games the score in front of the Chicago Blackhawks read the same and it was zero. 
The Chicago Blackhawks preseason is off to a very non-offensive start with the Rockford Ice Hogs on the ice for the first two contests.
The Chicago Blackhawks still haven't scored in the first two games which has to give you some sort of worry in the back of your head with the Hawks bottom six forwards targeted to be loaded with a bunch of Chicago Blackhawks prospects.
There still hasn't been any sightings of Patrick Kane, Jonathan Toews, Artemi Panarin, and Marian Hossa in the first two preseason games so it's not like the world is coming to an end. The problem is that the kids aren't putting the puck into the back of the net.
You would think in 6 periods of hockey something would get by whoever was in the Pittsburgh Penguins net, but that hasn't been the case with the defending Stanley Cup Champs pitching consecutive shut outs against the Chicago Blackhawks youngsters.
I was ready to preach about how it's time for Joel Quenneville and the Chicago Blackhawks coaching staff to open more roster spots to the Hawks prospects, but that's just not the case just yet with all of the baby Hawks looking like they are a season or two away.
The good thing is that there is still talent that will be playing in Rockford, it's just not at the level of a Brandon Saad or Teuvo Teravainen.  I can slow my roll a bit on the youngsters, but they will still have to make their mark this year!
More from Blackhawks News
Here are some Chicago Blackhawks morning links to start your weekend
See what Chicago Blackhawks assistant coach Mike Kitchen had to say after the Chicago Blackhawks 1-0 loss (Blackhawks)
The Hawks failed to score once again, is it time to kind of worry? (Second City)
Patrick Kane will make his Chicago Blackhawks debut Saturday against the St. Louis Blues (CSN)
The Blackhawks did make a signing on Friday, when they gave Graham Knott a 3 year deal (Committed Indians)
Listen to Patrick Kane all mic'd up at the World Cup of hockey (You Tube)
Christian Ehrhoff is still around, this time trying out with the Bruins (Puck Daddy)