Chicago Blackhawks' Revamped Blue Line: First Impressions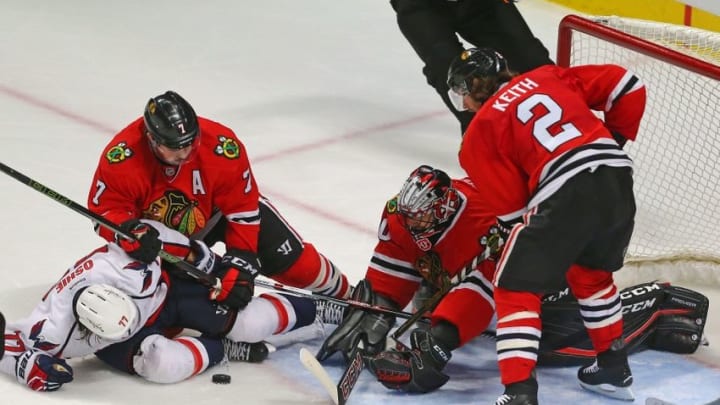 Feb 28, 2016; Chicago, IL, USA; Washington Capitals right wing T.J. Oshie (77) scrambles for the puck with Chicago Blackhawks defenseman Brent Seabrook (7) and goalie Corey Crawford (50) and defenseman Duncan Keith (2) during the third period at the United Center. Chicago won 3-2. Mandatory Credit: Dennis Wierzbicki-USA TODAY Sports /
Fortified with new talent, the Chicago Blackhawks' revamped blue line is showing early promise, but penalty-kill problems linger
With Trevor Van Riemsdyk sitting idle after a miserable opening night performance, Chicago Blackhawks coach Joel Quenneville has started these defensive pairings for the past three games:
Duncan Keith–Niklas Hjalmarsson
Gustav Forsling–Brian Campbell
Four games into the season, veterans Keith and Seabrook lead all 'Hawks defensemen in ice time and point production. Keith is still a dominant force with 8 shots and 4 assists while averaging 24:54 TOI.
Silencing critics of his 8-year $6.85M contract extension, Seabrook has notched a powerplay goal and 5 points along with 8 hits. His nifty stretch pass on Patrick Kane's early wraparound goal and "no-look" laser to set-up Artemi Panarin's powerplay goal kickstarted Chicago's 7-4 victory over the Flyers on Tuesday.
The 37-year old Campbell has been a disappointment, visible mostly for his 6 giveaways. If Coach Q puts TVR back in the lineup tonight against Columbus, Campbell could be the odd man out.
Promising start for Kempny, Forsling              

New to the NHL this season, Kempny and Forsling have quickly adapted to the league's smaller ice and faster play.
Both have earned Coach Quenneville's trust, consistently logging quality minutes. Kempny is a strong skater whose aggressive play leads the team with 9 hits, but can also get him into trouble.
His costly third-period high-sticking penalty led to the Flyers' game-tying goal Tuesday night. 
Forsling has impressed with high-end stickhandling, play recognition and positioning. Strong in the corners, he can skate the puck out of trouble and clear the zone with crisp, accurate passing. Also playing on the second powerplay unit, Forsling shows real offensive upside with 4 shots on goal and a dangerous shot from the point.
Improving penalty kill is Job No. 1

Ill-timed penalties and a miserable 47 percent kill rate are the biggest problems facing the Chicago Blackhawks so far this season.
Penalties kept the Predators in the game Saturday, and sparked a huge momentum swing the Flyers rode to tie the game Tuesday.
The Blackhawks' PK must quickly improve in three areas: Denying entry into the zone, pressuring the puck at the points and controlling inside position at the crease. It's hard to imagine any winning scenario with a 50 percent penalty kill.     
Next: Morning Links: TVR Trade Rumors
Reasons for optimism
Off to a promising start, the Blackhawks' blue line is quickly gelling with better breakouts, crisp passing and better gap control. It's still early, but 'Hawks fans have every reason to believe this year's defense can be a major driver of the team's success.