Chicago Blackhawks Morning Links- If A Tree Falls In The Woods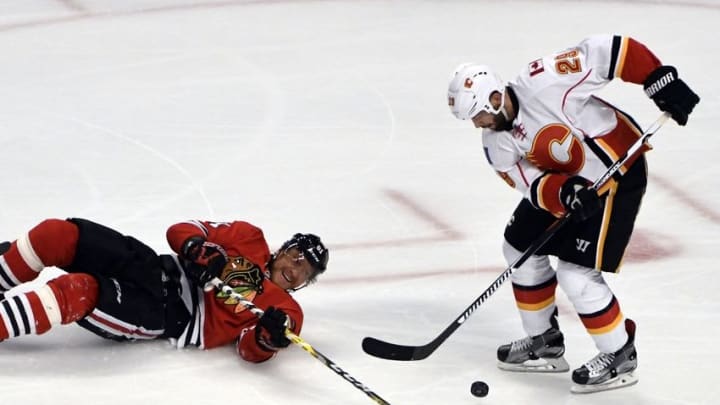 Oct 24, 2016; Chicago, IL, USA; Chicago Blackhawks right wing Marian Hossa (81) and Calgary Flames defenseman Deryk Engelland (29) go for the puck during the second period at the United Center. Mandatory Credit: David Banks-USA TODAY Sports /
Good morning Chicago Blackhawks fans! The Chicago Blackhawks don't play again until Friday night which happens to be the same time Game #3 of the World Series will be played so will anyone be watching? 
The first World Series game to be played at Wrigley Field since 1945 will be taking place on Friday night when the Indians and Cubs resume their now best of 5 series, and on the east coast the Chicago Blackhawks will be playing the New Jersey Devils from the Prudential Center.
The old sayings go, If a tree falls in the woods and nobody is there to here it, does it make a sound.  That is how I feel Friday night may go in New Jersey for the Blackhawks, especially if the Chicago Cubs get an early lead against the Indians.
Let's be honest, the Chicago Blackhawks have won 3 Stanley Cups since 2010, but this years early sample size for the Hawks has been a mixed bag of really tricks and some treats.  The biggest trick has been how awful the Chicago Blackhawks penalty kill has been to start the season. Sure they could go on a streak of not allowing a powerplay goal in 20 straight attempts or something, and that still won't get them back to average.
The treat so far has to be Richard Panik scoring more than expected in the early part of the season which off sets the fact that Jonathan Toews is off to another slow start.  This is becoming a concern just like the p.k., the Captain with all this youth on the team needs to be an offensive threat not just a checking forward.
All that leads to the fact that because of what's going on at Wrigley Friday night, the Hawks will barely be noticed which maybe is just fine right now.
More from Blackhawks News
Here are some Chicago Blackhawks morning links to start your Thursday morning. 
Richard Panik is enjoying a much bigger role this season with the Hawks (Verdi)
A look back at the week that was for the Rockford Ice Hogs (The Committed Indian)
Coach Joel Quenneville and the Chicago Blackhawks are still trying to solve the penalty kill (CSN)
The Chicago Blackhawks own the worst the thing in the NHL right now (Yahoo)
Toews says everything has to get better for the Hawks right now (Daily Herald)
The 2010 Chicago Blackhawks can relate to the 2016 Chicago Cubs (CSN)
Want your voice heard? Join the Blackhawk Up team!
Shea Weber is powering the Montreal Canadiens early hot start (Puck Daddy)