Analysis
Chicago Blackhawks Observations From Five-Point Third Week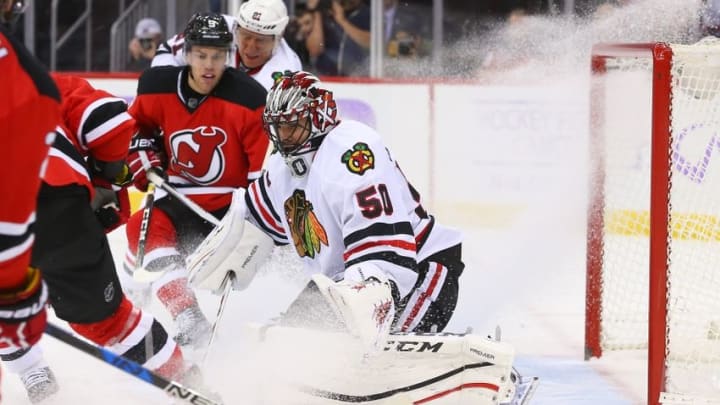 Oct 28, 2016; Newark, NJ, USA; Chicago Blackhawks goalie Corey Crawford (50) makes a save during the second period at Prudential Center. Mandatory Credit: Ed Mulholland-USA TODAY Sports /
The Chicago Blackhawks are headed in the right direction and showed signs of improvement in the season's third week
The third week of the Chicago Blackhawks' 2016-17 regular season can be called a success; they won two of their three games, and picked up five of six possible points.  All the little things are starting to go right.
The players are meshing, and definite progress can be seen.  An ugly 3-2 shootout loss last Tuesday to the Calgary Flames has been mostly forgotten.  The 'Hawks went on to beat the New Jersey Devils in overtime by the same score Friday and shut out the L.A. Kings 3-0 last night.
Here's a brief overview of each contest.
'Hawks vs. Calgary Flames: Loss, 3-2 in a shootout
Well, it was a close game, and at least the 'Hawks got a point, right?  Sure, I guess.  But if you take a closer look, they lost pretty much every battle and every statistic.
More from Analysis
Besides losing the game, they lost the faceoff battle 45-55 percent.  The Flames scored on two powerplays, while the 'Hawks did not score a powerplay goal.  The 'Hawks had 10 penalty minutes; the Flames only had four.  The Flames blocked 25 shots to the 'Hawks' 13, and they had 11 hits to the Flames' 35.
Oh, wait!  Chicago had 34 shots on goal and Calgary only had 31!  Should we lay a wreath?!  I think not.
Beyond this, the fourth line played minimal minutes once again, and the first and second lines where therefore forced to be on the ice for heavy minutes in their third game in four nights.  And they lost defenseman Gustav Forsling on a hard hit in the second period.
Sure, I guess we could talk about the fact Brian Campbell scored his first goal of the season and has looked especially spry in the last couple of games.  Or the that Corey Crawford had a solid game.  But for the most part, I'd like to throw this game in the garbage.