Chicago Blackhawks Observations From Five-Point Third Week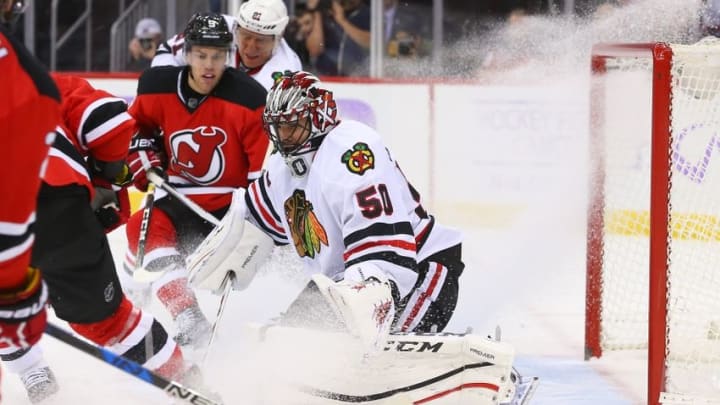 Oct 28, 2016; Newark, NJ, USA; Chicago Blackhawks goalie Corey Crawford (50) makes a save during the second period at Prudential Center. Mandatory Credit: Ed Mulholland-USA TODAY Sports /
Oct 28, 2016; Newark, NJ, USA; Chicago Blackhawks center Artem Anisimov (15) celebrates after scoring the game winning goal past New Jersey Devils goalie Keith Kinkaid (1) during overtime at Prudential Center. The Blackhawks defeated the Devils 3-2 in overtime. Mandatory Credit: Ed Mulholland-USA TODAY Sports /
'Hawks at New Jersey Devils: Win, 3-2 in OT
First off, we can put this one in the win column, of course.  And the stats did get a little better.
The Chicago Blackhawks won the faceoff battle by going 57 percent overall on the dot.  Artem Anisimov, who has been struggling in this area of late, actually won eight of 16 draws.  He was also responsible for the game-winning goal in overtime.  He now leads the 'Hawks in points with 10 (another goal on Sunday makes this 11, but I get ahead of myself).
With regard to special teams, the 'Hawks finally got out of their slump on the powerplay.  After going 15 consecutive times and three games without a powerplay goal, they scored two of them against the Devils.
They still have not had a single game this season when they haven't allowed a powerplay goal against (as of this point). But, after New Jersey scored on its first powerplay try, the 'Hawks' penalty kill held the Devils scoreless for the next three tries.  Let's hold on to that and go with it, shall we?
The real problem with this game was shots on goal.  The final total was 32-29 Devils, which appears pretty balanced when you put it that way.  But the shot differential was 12-7 for the Devils in the first period, and then 16-5 (!) for the Devils in the second period.
It wasn't until the third period (14-4 SOG, 'Hawks) and overtime (3-0 SOG, 'Hawks) that they were beating their opponent with getting pucks to the net.
This slow start in the first two periods is a theme for the 'Hawks right now.  What if they could shoot more in the first two frames?  You might score more goals if you shoot the puck, and then not have pull the last-minute heroics all the time.
Crawford has been key for the Chicago Blackhawks.  His numbers are skewed a bit because of goals allowed on the penalty kill.  But in his first six games, he has only allowed four goals and stopped 129 of 133 shots during 5-on-5 play.
Many people are impressed with Crow's play so far this season.  But Fifth Feather from The Committed Indian really hits the nail on the head.
"Crawford has been able to keep the 'Hawks in games throughout the early part of the season while the rest of the team settles into the game," he says. "The 'Hawks need a goalie that can get them through the tough times and give them an opportunity to win. Crawford has done that."