Chicago Blackhawks Morning Links: Welcome To November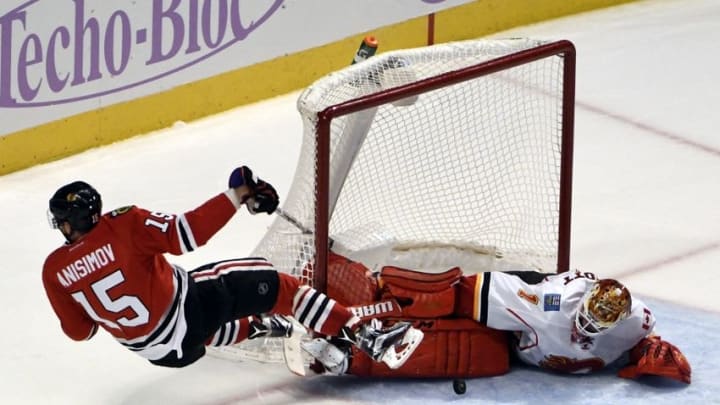 Oct 24, 2016; Chicago, IL, USA; Calgary Flames goalie Brian Elliott (1) makes a save on Chicago Blackhawks center Artem Anisimov (15) during a shootout at the United Center. The Flames won 3-2 in a shootout. Mandatory Credit: David Banks-USA TODAY Sports /
The Chicago Blackhawks open the month of November with a rematch against the Calgary Flames
Welcome to another edition of Chicago Blackhawks morning links. Unfortunately, Keith is in the midst of a sugar coma from overdoing trick or treating, so I'll be handling today's links.
Thankfully, I have an upcoming game to talk about. The Blackhawks tonight will take on the Calgary Flames for the second time in eight days. These two teams played to a shootout last Monday, and the Flames somehow walked out of the United Center with two points.
The Blackhawks get to try again tonight at the Madhouse on Madison against a Flames team that … maybe isn't that terrible? Calgary went on from Chicago last week and defeated St. Louis on the road and Ottawa at home before falling to Washington at home two days ago.
More from NHL News
Still, the Flames are just 4-5-1 on the season compared to Chicago's 5-3-1 mark. Both teams will be coming off a day of rest, as the NHL gave all teams a day off so Gary Bettman could egg people's houses.
What's going on for the Blackhawks?
Well, there is some news on the injury front. Defenseman Gustav Forsling, who suffered an upper-body injury last time these teams met, may be able to play tonight. You'd have to imagine either Michal Rozsival or Michal Kempny, who have recently been linemates, would draw out of the lineup in this case.
That would more than likely put Brent Seabrook with either Kempny or Rozi, and send Forsling back to regular defensive partner Brian Campbell. Seems fair, even with a recent short run of Blackhawks success.
The other bit of injury news involves forward Andrew Desjardins. The grinder has been on injured reserve since right before the season started. However, coach Joel Quenneville said Monday he believes Desjardins could be good to go for one of the Dallas games.
For a point of reference, the Blackhawks take on the Stars on Saturday and Sunday in a home-and-home setup. So we could see Desjardins in just a few days.
What this would mean for the Blackhawks' roster is uncertain, as carrying 24 guys isn't really kosher. My first guess would be Vincent Hinostroza gets a trip back to Rockford, but I guess we'll see.
Next: Blackhawks Defeat Kings 3-0
With that, let's move on to the Blackhawks morning links
— More on Forsling's well-being. CSN Chicago
— And more on Desjardins as well. Chicago Tribune
— You know there are some Blackhawks on here. Yahoo!
— A day late, but that's quite impressive. NHL.com
— I don't see him on the Dos Equis commercials. Wall Street Journal
— I should sure hope so. NHL.com