Chicago Blackhawks Morning Links: Staying In Canada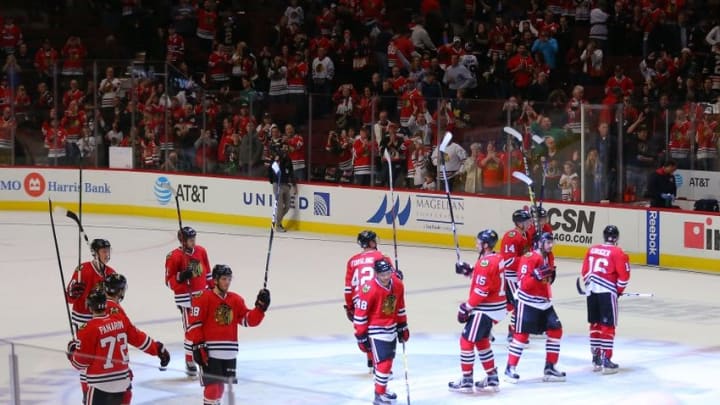 Nov 13, 2016; Chicago, IL, USA; The Chicago Blackhawks celebrate their victory following the third period against the Montreal Canadiens at the United Center. Chicago won 3-2. Mandatory Credit: Dennis Wierzbicki-USA TODAY Sports /
Good morning, Chicago Blackhawks fans, and welcome to your recovery from a shutout loss
The morning after a Chicago Blackhawks defeat is rarely fun. At least we can rest on the fact yesterday's loss to the Winnipeg Jets marked the first time in the last 12 games the Blackhawks didn't earn at least one point.
A relatively tight game through two periods go blown open in the third, as Winnipeg chased goaltender Corey Crawford with three quick goals. While he probably should've stopped the Jets' first goal, in the opening period, he was strapped with some poor defense in the third period.
At least he (apparently) wasn't injured, which was a fear in the first period. Former Blackhawk Dustin Byfuglien let loose a shoot from along the boards, and it seemed to catch Crow on the right shoulder. Crow slowly bent down on the ice until a trainer came out to take a look.
Crow stayed in the game, but an early end to his night probably wasn't the worst thing in the world.
Still, losing the opener to the annual Circus Trip — reportedly the last one — is never fun. The competition gets tougher as the trip goes on, so the Blackhawks would do well to pile up some points early on.
Speaking of piling up points
The Blackhawks' next two games on this trip come back to back, and they come against weak teams.
Chicago will travel to Calgary for Friday's game ahead of an even later tilt against Vancouver the following night. The Flames contest starts at 8 p.m., while the Canucks game gets going at 9 p.m.
Neither team is any good right now. Both Calgary and Vancouver sit at 13 points, tied for second-fewest in the league (Arizona's 10 "paces" the league). So there are certainly points to be had here.
Still, no opponent can be taken lightly. The Blackhawks have often forgotten to wake up for games during the middle parts of the regular season, and they'll have their butts handed to them. Hopefully an iffy performance against Winnipeg offers some motivation.
On to the morning links
With my take on what happened last night in Winnipeg and what's coming up next for the Blackhawks out of the way, let's get to what you came here for. Let's get to some morning links.
Next: Hinostroza Needs To Stay On Top Line
— Listen to the coach. Chicago Blackhawks
— It seeps into all parts of life. Second City Hockey
— Great to see Bryan Bickell getting help from Josh Harding. ESPN
— Vernon Fiddler seems like a decent guy. NHL.com
— It's with the last-out ball from the Cubs' World Series win. ESPN