Chicago Blackhawks' Top 10 Thankful Moments In Kane/Toews Era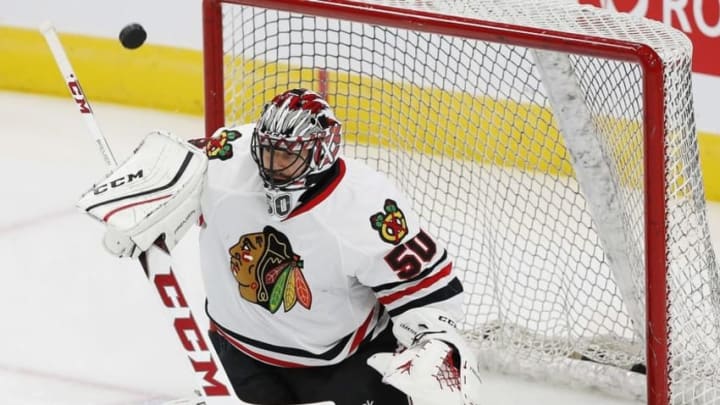 Nov 21, 2016; Edmonton, Alberta, CAN; Chicago Blackhawks goaltender Corey Crawford (50) makes a save during warmup against the Edmonton Oilers at Rogers Place. Mandatory Credit: Perry Nelson-USA TODAY Sports /
Nov 21, 2016; Edmonton, Alberta, CAN; Chicago Blackhawks goaltender Corey Crawford (50) makes a save during warmup against the Edmonton Oilers at Rogers Place. Mandatory Credit: Perry Nelson-USA TODAY Sports /
In the spirit of Thanksgiving, it's only fair we take a look at what the Chicago Blackhawks should be thankful for
The Chicago Blackhawks franchise and fan base have been very thankful over the last several seasons. The fan base is thankful the team got Jonathan Toews with the third overall pick in the 2006 draft, and that Patrick Kane was the first overall pick in the 2007 draft.
The Blackhawks are thankful to be out of the dark times, when ESPN called the franchise the worst in all of professional sports. There have been a ton of moments to be thankful for over the last several seasons, I thought it would be best to limit it to plays that happened on the ice. These moments are not player moves but, actual plays.
So we decided to share on Thanksgiving, 10 moments for the Chicago Blackhawks and their fans to be thankful for.
Moment 10: Marian Hossa's overtime winner against Nashville, 2009 Western Conference quarterfinals, Game 5
In the Blackhawks' quest for their first Stanley Cup championship since 1961, the first round was not easy. The Nashville Predators had the series tied at 2 heading into Game 5 at the United Center. The Blackhawks had trailed in the series 2-1 before winning Game 4 in Nashville. Game 5 was a critical game in the series. The Blackhawks had to win it.
Late in the third period, Marian Hossa took a boarding penalty with the Blackhawks down a goal. It was a major penalty at 18:57 gone by in the period. With less than two minutes left, coach Joel Quenneville pulled Antti Niemi for an extra skater.
Patrick Kane would score the equalizer with 14 seconds left in the third period. The Blackhawks would kill off the Hossa's major penalty in overtime. Shortly after, Brent Sopel would put a shot on goal, and Hossa cleaned up the rebound for the game winner.
Hossa's goal propelled the Blackhawks to the next round against the Vancouver Canucks and helped them win their first Stanley Cup championship since 1961
.