Chicago Blackhawks Morning Links- Overtime Once Again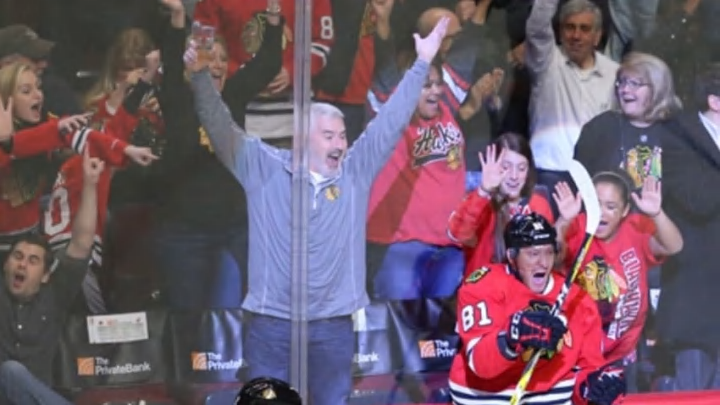 Dec 1, 2016; Chicago, IL, USA; Chicago Blackhawks right wing Marian Hossa (81) celebrates with defenseman Duncan Keith (2) after scoring the game-winning goal against the New Jersey Devils in overtime at United Center. Mandatory Credit: Jerry Lai-USA TODAY Sports /
Good morning Chicago Blackhawks fans! The Chicago Blackhawks went to overtime once again last night, and Marian Hossa put away the game winner for the extra point against the New Jersey Devils. 
The Chicago Blackhawks are a fun team to watch this season, and yet they do a lot of things that are quite frustrating so there never is a dull moment with this team so far this season.
For starters, they seem to be an extremely slow starting team.  They get behind routinely game in and game out.  I know they got a lead against the Florida Panthers, but most nights the Hawks are losing early and always have to dig themselves out from an early hole.
The next thing that happens is the Hawks come back with a vengeance either in the 2nd or 3rd period.  Last night, it was a 2nd period explosion with the Hawks dominating the play and scoring 3 times while taking a lead to the 2nd intermission. This part of the Hawks recipe sure is fun to watch each game.  They look like the Hawks of years past when they dominate the puck and put shot after shot on the opponent's goal.
The Hawks of course are one of the best overtime teams that I can remember whether it's regular season or postseason.  The Hawks just seem to find a way to win when it's in extra time which is what they did  last night when Marian Hossa won it last night.
Next up for the Chicago Blackhawks is trip to Philly on Saturday.  In the meantime, here are some morning links to start your Friday morning.
More from Blackhawks News
The Chicago Blackhawks worked overtime to pick up two points last night (Blackhawks)
Here are three big reasons why the Chicago Blackhawks are the best in the west (Daily Herald)
How are the Chicago Blackhawks prospects doing around the world (Committed Indians)
The Chicago Blackhawks are feasting on the Eastern Conference this week (CSN)
The Hawks are on top of the West, but here are some reasons why they are vulnerable (ESPN)
The New York Rangers still sit on top as the most valuable team in the NHL according to Forbes (Pro Hockey Talk)
The Colorado Avalanche are lacking severely in team chemistry (Mile High Sticking)
Next: 25 Days of Blackhawks Christmas
Ex-Florida Panthers coach Gerard Gallant says taxi pictures are blown out of proportion (Puck Daddy)