Chicago Blackhawks Morning Links- Empire Strikes Back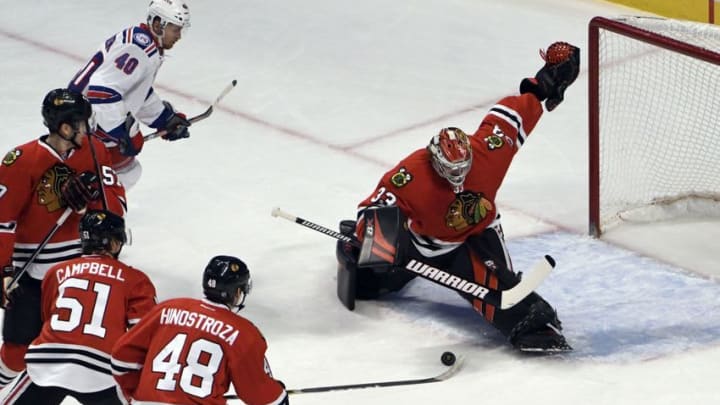 Dec 9, 2016; Chicago, IL, USA; Chicago Blackhawks goalie Scott Darling (33) makes a save on New York Rangers right wing Michael Grabner (40) during the first period at the United Center. Mandatory Credit: David Banks-USA TODAY Sports /
Good morning Chicago Blackhawks fans! Well, if you are a fan of offense last night's 1-0 overtime loss wasn't the game for you. If you are a defensive/goalie fan last night was an absolute delight! 
Maybe New York City is tired of seeing championships going to Chicago with the Cubs and Blackhawks both winning in this decade while the New York area is getting shut out.  It really doesn't upset me one bit to be quite honest because I really hate the 2nd City label.
That being said the New York Rangers did their best effort last night for a little bit of revenge with their overtime win at the United Center last night although neither goalie deserved a loss last night.
During the day it was described as a battle of Corey Crawford backups, but in the end both showed why they deserve to be #1 goalies somewhere in the NHL with both of them stopping every shot in regulation.
Antti Raanta stopped all 26 shots on goal that the Blackhawks put on him while Scott Darling stopped 36 of 37 shots the Rangers put on him through overtime.
Having to work early this morning, I didn't do twitter last night or stay up for the conclusion having gone to bed when Marian Hossa scored early in the third period apparently, but it was challenged and then overturned because the referee after replay said that Hossa was offsides.
So after going to bed thinking the Hawks had a 1-0 lead I woke up to a 1-0 overtime loss which is pretty depressing.  The Hawks got out shot again which is a real cause for concern if they weren't missing Jonathan Toews and Brent Seabrook.  Hopefully these two will get back in the lineup sooner than later.
Here are some Chicago Blackhawks morning links to kick off your weekend! 
See what Scott Darling had to say after the 1-0 loss in overtime last night (Blackhawks)
What a flat salary cap would mean for the Chicago Blackhawks next season (CSN)
Even though they let Steve Larmer take one more shift last night, the Chicago Blackhawks still need to retire #28 (Committed Indians)
With the injuries in the lineup, Marcus Kruger is getting a rare shot at playing an offensive role (Sun-Times)
Carey Price receives no suspension after losing his mind the other night (Pro Hockey Talk)
Here is a theory about the Vancouver Canucks start to the season (Puck Daddy)