Chicago Blackhawks Morning Links- Winning Is Everything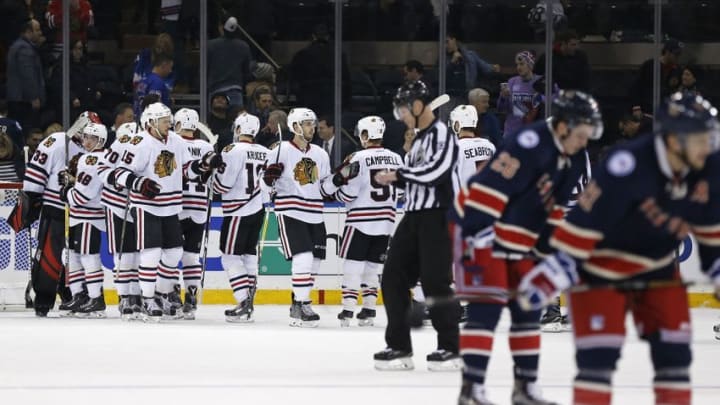 Dec 13, 2016; New York, NY, USA; Chicago Blackhawks center Artem Anisimov (15) celebrates with teammates after defeating the New York Rangers at Madison Square Garden. Mandatory Credit: Adam Hunger-USA TODAY Sports /
Good morning Chicago Blackhawks fans!  The Blackhawks last night did what they have done for most of the year, and that's win a one goal game. When the final horn sounded it was 2-1 Chicago Blackhawks victory at Madison Square Garden. 
I'm not sure which Championship video it was or if it was a behind the scenes before an outdoor game, but the one thing I will always remember about Joel Quenneville when he's done coaching the Chicago Blackhawks is that video of him yelling nobody likes to win more than me!
This season is a perfect example of how much Coach Q likes to win.  I wasn't expecting the Hawks to be this successful this early in the season.  If you asked me for a blueprint to the season, I would have told you a lot of struggling early on with all the kids in the lineup, and when push came to shove to make the playoff the Blackhawks would be a wild card team.
So far that blueprint is way off with the Blackhawks having the best record not only in the Central division but in the entire Western Conference.  The reason the are the top dog has been their ability to win one goal game which was on full display last night.
They also have a truly great ability to win games when they take a lead into the third period.  I don't have the exact numbers, but they were almost perfect from the 2014 Game #7 loss in the Western Conference Finals to last season.  Then again this year they are now 13-0-0 when taking a lead to the final frame.
More from Blackhawks News
Winning is everything in professional sports that's for sure, and Coach Q loves it the most! Here are some morning links to start your Hump Day.
What did Scott Darling have to say after his win on Tuesday night (Blackhawks)
Scott Darling on his upcoming free agent talk this summer, "I'm Auditioning for next year with the Hawks" (Tribune)
Artem Anisimov scored the game winner last night and other highlights (CSN)
Which teams around the NHL are most likely to trade before the Holiday freeze (Bleacher Report)
The Blues road trip ends with a disaster in Nashville (Bleedin Blue)
If the Dallas Stars are going to turn around their season, It has to start now with an 8 game homestand (Defending Big D)
Jeff Carter calls the LA Kings a fragile terrible team after loss to the Buffalo Sabres (Puck Daddy)