Chicago Blackhawks' Scott Darling Trolls St. Louis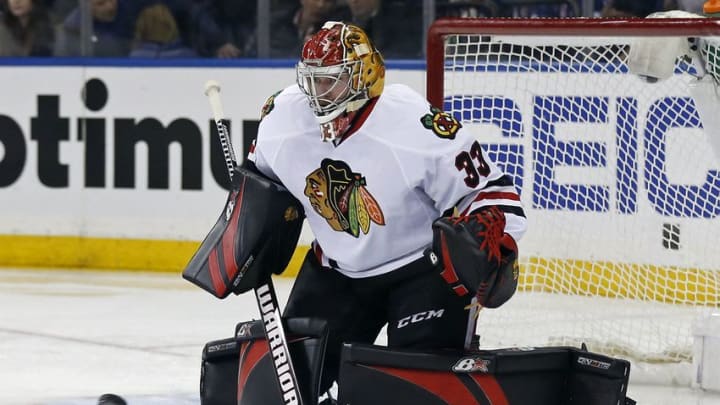 Dec 13, 2016; New York, NY, USA; Chicago Blackhawks goalie Scott Darling (33) makes a save during the second period at against the New York Rangers Madison Square Garden. Mandatory Credit: Adam Hunger-USA TODAY Sports /
Chicago Blackhawks goaltender Scott Darling honors the Chicago Cubs while taking a dig at the St. Louis Blues
Chicago Blackhawks goaltender Scott Darling's mask for the Winter Classic in St. Louis was revealed this morning on "Pardon My Take." His mask reflects the fact that Chicago Cubs won their first World Series this year since 1908.
Darling is a Chicagoland native (Lemont) and grew up a Cubs fan. On his mask, Cubs first baseman Anthony Rizzo is featured along with a baseball's stiches.
In case you have been under a rock this season, the Chicago Blackhawks will play in their fourth outdoor game on January 2. They will take on the St. Louis Blues in the home of the St. Louis Cardinals, Busch Stadium. This will be the third baseball stadium the Cubs have played in. They have played in Wrigley Field and Nationals Park prior.
Darling's mask is clearly a shot at the St. Louis fan base. The St. Louis fan base had held over the Chicago Cubs fans for years that it had been 108 years since they won the World Series. Well not anymore. With a bitter rivalry already in place, Darling's mask will stoke the fire just a little bit more.
Darling revealed the mask on "Pardon My Take" this morning after taking part in the goalie challenge on the show this week.
If you haven't noticed, Darling is very proud of being from the Chicagoland area. His current helmet features Wayne and Garth from "Wayne's World," as well as Stan Mikita.  Darling has been a roll as of late, winning four of his late five starts.
For the season, he is 8-2-2 with a 2.18 goals-allowed average and a save percentage of .928.
Free agent to be
Being that he is a free agent after this season, Darling was asked earlier this week if he is auditioning for another team next year. He came out and stated that he was audition for the Blackhawks with his impressive performances.
He likes being a member of the Blackhawks and the coaching staff is very comfortable with Darling in net. Darling could be one possible players taken off the Blackhawks roster in the Las Vegas expansion draft whether or not he is re-signed by the team.
Next: Redrafting Core Blackhawks Since 2002
Darling's mask might only be used during the warmup for the Winter Classic, as it appears that Corey Crawford could return to the lineup before that time. But it's still a pretty cool look.