Editorials
Chicago Blackhawks' Artemi Panarin Re-Signing's 3 Positives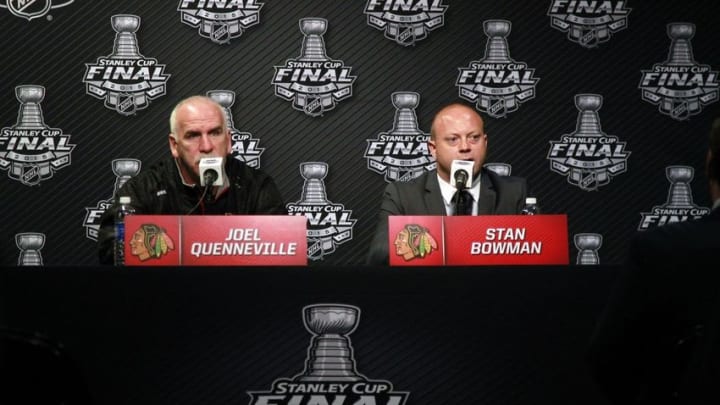 Jun 2, 2015; Tampa, FL, USA; Chicago Blackhawks head coach Joel Quenneville and general manager Stan Bowman talk with media during media day the day before the 2015 Stanley Cup Final at Amalie Arena. Mandatory Credit: Kim Klement-USA TODAY Sports /
Jan 26, 2016; Raleigh, NC, USA; Chicago Blackhawks forward Artemi Panarin (72) looks on against the Carolina Hurricanes at PNC Arena. The Carolina Hurricanes defeated the Chicago Blackhawks 5-0. Mandatory Credit: James Guillory-USA TODAY Sports /
It's hard not to feel good about the Chicago Blackhawks re-signing Artemi Panarin, even to a short-term deal
Yesterday afternoon, the Chicago Blackhawks dropped a really important bombshell, announcing they had come to an agreement with star forward Artemi Panarin on a two-year contract extension.
The deal is essentially one of bridge nature, two years at $6 million per season. It's a hefty cost, but I think more fans were and still are surprised Panarin didn't wait out for a longer-term deal. No matter what was said behind the scenes to get to this point, the Blackhawks officially have Panarin for at least two more years.
Of course, there's plenty of different ways to view this deal. Today, I'm going to take a look at three positive takeaways from Panarin sticking in the Windy City for at least a little while longer.
No. 3: It puts an end to surrendering to the salary cap
Chicago Blackhawks general manager Stan Bowman had, of late, been beaten down pretty handily by the salary cap. The Blackhawks' noticeable struggles to stay beneath the cap, no matter the number it landed at, were easy offseason chat fodder.
After Bowman had to say goodbye to Brandon Saad due to his contract demands in 2015, and after he had to give up very early on Teuvo Teravainen earlier this season, Bowman decided he'd take a stand with Panarin.
Sure, there are going to be issues getting the Blackhawks under the cap for 2017-18. But Bowman didn't want to make it three straight promising young forwards he had to dump to other teams over money concerns.
He's now set a standard wherein, if you're a young guy who plays well, you do have a chance to stick in Chicago instead of being shipped to a team whose Stanley Cup aspirations might not be so great.