Analysis
Chicago Blackhawks' Eye On The Enemy: The Rat Trick (Florida Panthers)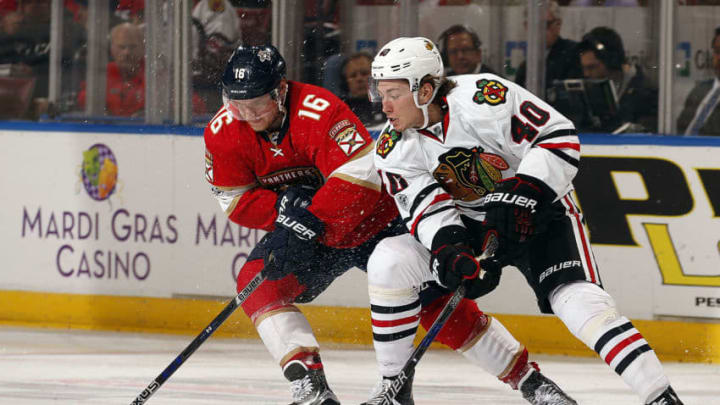 SUNRISE, FL - MARCH 25: John Hayden /
Q&A with Danny Janicas
Jonathan Marchessault broke out last season, scoring 30 goals and amassing 51 points, good for third best on the team. Obviously, he was selected in the expansion draft by the Vegas Golden Knights. How much are the Panthers missing his production this season? 
Surprisingly, the Panthers' problems have not been offensively this season but instead defensively. Having a 30-goal scorer on your team is helpful and certainly luxurious, but Jonathan Marchessault isn't a consistent 30-goal scorer.
Last season (as you know), the Florida Panthers experienced injuries to their top players up front (Jonathan Huberdeau, Aleksander Barkov, Nicholas Bjugstad and Jussi Jokinen) and needed someone to step in and fill the gap on the top two lines. Fortunately enough, it was Marchessault's perfect opportunity to make a name for himself, while playing top-six minutes on an NHL club.
Little Johnny took advantage of the opportunity and wasted no time potting goals. Whether it was on the powerplay or even strength, Marchessault was finding the net with ease.
Fast forward this season and things are a little different. The Panthers' top guys aren't starting the season injured, nor do they have any major injuries either. With Huberdeau and Barkov locks on the top line, Johnny was at best going to see time on the third line (maybe second).
Live Feed
Da Windy City
Playing with linemates who aren't Jaromir Jagr, Vincent Trocheck or Barkov will really influence the outcome of his production. Marchessault isn't a player who can score 30 goals with third-line players by his side.
So while we miss the Marchessault of last season, we must recognize that he will likely not match last year's production.
What offseason departure has hurt the Panthers the most? On the flip side, what offseason acquisition has proved most beneficial?  
Offseason departures that hurt the most would have to be Reilly Smith, Marchessault and Jason Demers. Starting with Smith, he had tremendous chemistry with Trocheck and had a knack at finding the goal. Yes, he's shown forms of inconsistency throughout his career. However, he was a great player to have on special teams (penalty kill and powerplay), as well as on the second line. 
Regardless of whether Marchessault hits 30 again or not, he's still a good player to have on your bottom two lines. With ease, Jonathan would have been capable of at least recording 15 goals on our third line. He also would have added much-needed depth in scoring and would have improved the team's third line especially.
Marchessault is a player you can call upon in the times of desperate need. He showed that during the 2016-17 campaign and would have done it again if the Panthers' top players were to ever go down like that again. Marchy is a warrior, and they miss his hunger.
Lastly, while many disliked Demers' play, he wasn't as bad as many claimed. Soft on the puck at times, Jason was able to move the puck quickly up to his forwards, creating fast odd-man breaks going the other way in favor of Florida.
He was also capable of producing offensively and jumping up in the play when needed. Demers was and is a good two-way defenseman, who provides experience at the back. There are flaws in his game (like all defensemen), but any team in the NHL would love to have a two-way defenseman like him.
We've seen in Chicago how much good coaching can positively impact a team. What kind of job has new coach Bob Boughner done?
Boughner is young and doesn't have a lot of experience behind an NHL bench. He's learning as he goes and has a young team behind him. There are certain areas of his coaching I question, but he's still new and trying to formulate a system that works for all the players. Don't know what the future holds for him, but we're hoping he can be a "players' coach," like Gerard Gallant once was to this group.
More from Analysis
For Panthers fans, how much hype have you heard around Henrik Borgstrom, if any? When do you expect him to start playing for the Panthers?
Henrik Borgstrom has a lot of hype playing in the NCAA and rightfully so. The kid is killing it in Denver and making goaltenders look silly. Borgstrom is truly fun to watch, and it will be a pleasure to watch him in a Cats jersey soon.
I expect him to jump into the NHL next year and possibly grab a spot on the second line with Trocheck. Yes, Borgstrom is young, but I think his time will come next year and, more importantly, in a top-six role.
From the perspective of a Panthers fan, what are you making of the Blackhawks' sub-par start to the season? What do you think needs to be done in order for them to pick up the pace and be the dominant team we're used to?
I haven't been keeping an eye on the Blackhawks too much this season, but they're a team you just can't count out. The 'Hawks have found it tough to stay under the cap the last few years, but have done a significant job in staying under and retaining their most prized players.
I wouldn't fixate or worry too much about the slow start, as I do expect the 'Hawks to pick it up and make the postseason this year. The 'Hawks are too good not to make it, and it'll take a lot for them to miss out.
As a Panthers fan, I have no doubt in my mind that the Chicago Blackhawks will turn it around and will make the playoffs. Jonathan Toews and Patrick Kane always find a way and will definitely find a way this season.
Do the Panthers have any rookies you expect to break out this season? From a Blackhawks fan perspective, I'm well aware of young players like Barkov, Ekblad and Huberdeau. But are there any rookies who fans should make sure to pay attention to?
Other than Owen Tippett, who was recently sent down to juniors (OHL), I would have to say no one. They've had some call-ups in the past week, but none have been game-changers or dominant like the young core.
Dryden Hunt and Chase Balisy are two notable call-ups, but they aren't players who are on the rise. As of now, no one, but next season with Tippett expected to play in his first full year, as well as Borgstrom, those are two players the league and fans should look out for.
Next: Notes From IceHogs' 3-1 Win Over Iowa
Lastly, prediction time. The last time these two teams met in Florida, the Panthers embarrassed the Blackhawks 7-0. Let's hear your predictions for the upcoming rematch. 
Seeing the 'Hawks have been a bit better than my Cats, it would be silly of me not to give them the upper hand. I think it'll be a close game, but I think the 'Hawks edge out the Panthers and take the game 3-2.