Analysis
Chicago Blackhawks Roundtable: Top D-Men And December Games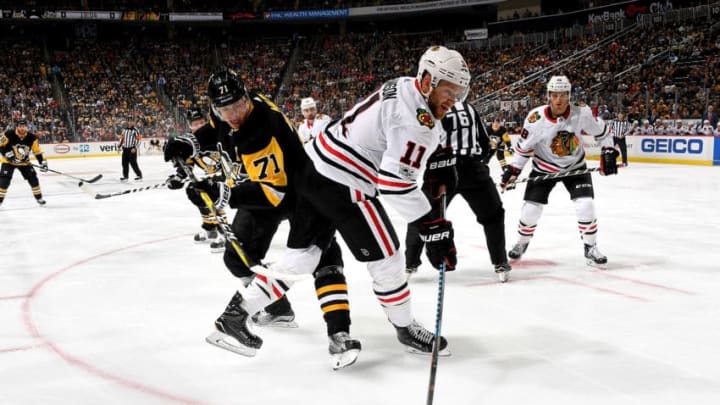 PITTSBURGH, PA - NOVEMBER 18: Evgeni Malkin /
SUNRISE, FL – NOVEMBER 25: Jan Rutta /
Kirk Bennett
Question 1: Duncan Keith is the obvious no-brainer to head the blueliner list. However, it becomes a bit tricky after that. Since the question states now, rather than in March, I will go with Jan Rutta, Gustav Forsling and Cody Franson to round out the top four.
Will that change as the season progresses? Probably. Seabrook is off to a rough start, but he still possesses the offensive game, and Connor Murphy seems to get more comfortable with each passing week in a Chicago uniform. I think either one of those players could end up in the top four by season's end.
Why Franson? Well, he is not the most fleet of foot, but he compensates for that nicely by utilizing his experience and hockey IQ. I like his physicality, his consistency and his big shot from the point.
More from Analysis
What I think is a more important question is which defensemen should Coach Q utilize on the specialty teams, but that is for another day.
Question 2: I will go with the game on Dec. 14 in Winnipeg. Not only is it an important, intradivisional affair, it is also against a team 'Hawks may need to beat out to make the big show in the spring.
I enjoy watching the Jets play these days; where goals can from a number of young studs in front of a crowd that's fully engrossed in the game. I am always enthused to see Big Buff play and can't forget that Winnipeg is the birthplace of Jonathan Toews. That makes the game special for the captain.
Jeffrey Franklin
Question 1: Duncan Keith, Gustav Forsling, Jan Rutta and Brent Seabrook. The last three guys can fall in any order, but I've been really impressed with Rutta's ability to seamlessly transition to North American ice and the North American game.
Forsling has had his ups and downs, but looks like a really nice find from management, providing some offense and some nice defensive stickhandling. I can't take Seabrook out of the top four as even though it's apparent age is catching up with him, he is still a really good D-man in this league and his experience keeps him in the top four.
Question 2: A little off the beaten trail with this answer, but the Winnipeg game on the 14th really sticks out to me. The Jets have surprised many and are currently sitting in one of the divisional playoff spots and could mean the difference between an outright playoff berth, wild-card berth or an altogether postseason miss for these 'Hawks.
It will be a great measuring stick for a 'Hawks team that is starting to find its legs again. I still can't write off this 'Hawks team as a contender, and games like this are important for confidence and seeing if they can compete with the teams they could likely see in the first two rounds.