Analysis
Chicago Blackhawks Roundtable: Top D-Men And December Games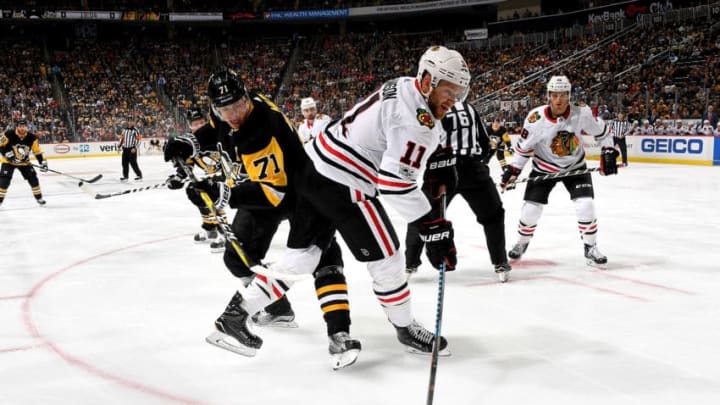 PITTSBURGH, PA - NOVEMBER 18: Evgeni Malkin /
SUNRISE, FL – NOVEMBER 25: Michael Matheson /
Randy Holndoner
Question 1: Keith, Seabrook, Forsling and Rutta.  Keith and Seabrook log the minutes and have been the top-tier for a long time.  They've had their faults this year, but still are top four in this group.  Forsling and Rutta have played great together and deserve the minutes.  They get pucks to the net as well.  Notable-mention surprise goes to Franson.
Question 2: Dec. 14 at Winnipeg will be a good test for the 'Hawks.  The Jets have been playing very well this year, and they will be a good test as the 'Hawks try to climb back into the divisional race.
Live Feed
Da Windy City
Colin Likas
Question 1: I'm going with Jan Rutta, Cody Franson and Gustav Forsling. Odd group, for sure. Rutta has transitioned so well to the North American game that you'd have to consider him an easy candidate for most valuable newcomer to this Blackhawks team. As long as he doesn't get forced to his off side again, he should continue holding down the fort in a variety of zone situations.
Franson has found his footing alongside Duncan Keith. I was skeptical about these two as a pairing, initially, considering they both have offensive-leaning tendencies. But they've made it work, as Franson and Keith are both positionally strong guys with good vision on the ice. Franson's shot actually getting past opposing shinpads doesn't hurt, either.
I'm still not totally sold on Forsling, but Brent Seabrook should not be playing top-four minutes, Connor Murphy still looks a bit behind Forsling in the development department and Michal Kempny is stuck in press box hell. Forsling is at least looking more confident on the ice of late, and he's adjusting well to a boost in minutes.
Question 2: I'm pretty sure the answer here is Winnipeg on Dec. 14, but let's just mix it up a bit for fun. I've rarely looked forward to the Blackhawks' games against New Jersey — I rank them second most-boring to watch behind Carolina games.
However, considering the final score was 7-5 the previous time these squads met this season, I'll say the Dec. 23 tilt at New Jersey will be one worth watching. Will the Devils still be atop the Metropolitan Division by then? They really shouldn't be, but they do appear to have some staying power.
Nico Hischier, Will Butcher and Co. are a fun group to watch. I'm still not sure what a Miles Wood is, but I have no doubt Corey Crawford will be ready to shut out the Devils by any means necessary.