Analysis
Chicago Blackhawks Roundtable: Top D-Men And December Games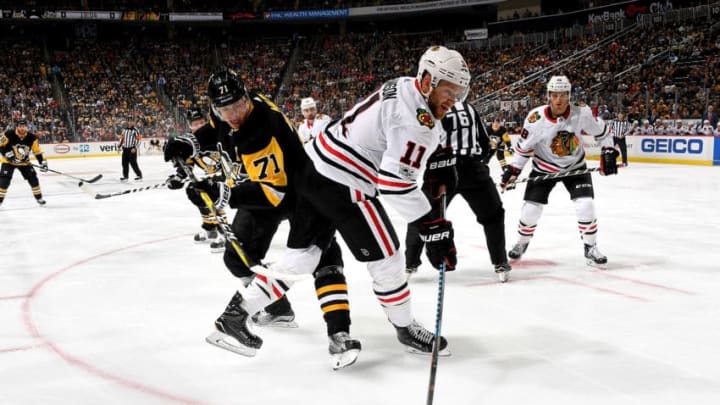 PITTSBURGH, PA - NOVEMBER 18: Evgeni Malkin /
PITTSBURGH, PA – NOVEMBER 18: Gustav Forsling /
Matt Morrow
Question 1: Rutta, Forsling and Seabrook. I really like what Rutta has shown this year. He is playing like he has been playing in the NHL and on American ice for years. He has the presence of a stabilizing veteran, which is essential when guys like Forsling are still learning and maturing.
Forsling has made major strides this year, and looks to man the second defensive pair for years to come. His offensive jump has proved helpful for the 'Hawks this year, and his defensive game has taken strides.
It's hard to say Seabrook isn't a top-four guy, because the hockey sense and shot are still there, but the speed is declining rapidly. I think he and the 'Hawks would both benefit from him playing against lesser competition in the future, where he could be more effective.
Live Feed
Da Windy City
Franson has been a huge addition and an essential part to this defense this year, but he isn't a top-four guy. Murphy could be in the future, but not yet.
Question 2: Personally, I'm looking forward to watching the Buffalo game on the 8th. It goes without saying that Patrick Kane can make magic happen on the ice, but it always seems to be magnified when they're playing Buffalo.
That's Patrick Kane's hometown, so he always seems to have an extra jump in his step when they play Buffalo, even if the game is still in Chicago. I'm interested to see what highlight-reel play he comes up with, or if he takes over that game like we've seen him do so often in the past.
Steve Yatsushiro
Question 1: After Duncan Keith, it's a mixed bag of defensemen with flaws.  But I'm going to say that Jan Rutta, Cody Franson and Brent Seabrook round out the top four.
Jan Rutta impressed from the very start of the season with an ability to force zone entries to the perimeter with fluid skating and a long stick.  Because of his skating ability, he is also able to play a good gap to prevent penetration into the danger areas.
It seems he got messed up a bit after he was thrown onto the left side, as he continued to overpursue to the left when he returned to his normal right side.  His offensive IQ is is also impressive, as he knows when to join the rush or pinch in from the blue line.
All things considered, he has handled the transition from European to North American hockey better than anyone could have expected.  He's going to be a really good D-man in the NHL, and hopefully with the Blackhawks.
Cody Franson has gone from healthy scratch to third pair to second pair and currently first pair with Keith.  He has grasped the Joel Quenneville-Ulf Samuelsson system and along with his solid puck moving ability, he has vaulted to the top.
He is still prone to the turnover, but has not made fatal errors.  In a deeper defensive corps, he might not be a first-pairing guy.  But he's faster than Seabrook, has good size and has more experience than any of the other D-men.
The Keith-Franson pairing has been pretty effective so far.  The creation of this pairing and Franson's insertion on the powerplay coincides with the team starting to find its identity.
Brent Seabrook is the guy I described as the poster boy for love-hate syndrome.  He is still a very good defender, just not at the 20-plus-minutes-per-game level.  It took a while for the coaching staff to get over its denial of his decline, and reducing his minutes to 17-18 per game has made him more effective.
More from Analysis
Gustav Forsling is making a run at this fourth spot with 22-24 minutes per game of late, and he is improving game by game.  He could overtake Seabrook very soon if his upward trend continues.
Of course the problem with these three guys is that they are all right-handed sticks.  So someone either has to play on his offhand side to be in the top four, or someone has to drop down to the bottom pair.
The experiment with Rutta on the left wasn't that great, and I don't want to see that again.  So again, Forsling could be the new fourth guy very soon.  With the defense still finding its way, this is going to be a good question to repeat for roundtable discussion at the halfway point of the season.
Question 2: I'm looking forward to the Dec. 14 game against the Winnipeg Jets.  This is a team I picked as the surprise team of this year.  They boast a lineup of huge forwards who can really skate well, take the body, handle the puck and score.  Their blueliners are also big and talented.
They've solidified their chronically bad goaltending situation by elevating Connor Hellebuyck to the starter's position and adding Steve Mason as a backup.  This is the type of team that gives the Blackhawks too much to handle.
Next: Chicago Blackhawks' Simplified Offense Paying Dividends
So as the Blackhawks continue their uphill climb out of identity crisis, they will have a serious test of character against this big and fast team.  If the Blackhawks want to get into and through the playoffs this season, this is a team they may have to overtake.  A good test indeed.