Sponsored
Chicago Blackhawks fans need this Marian Hossa shirt from BreakingT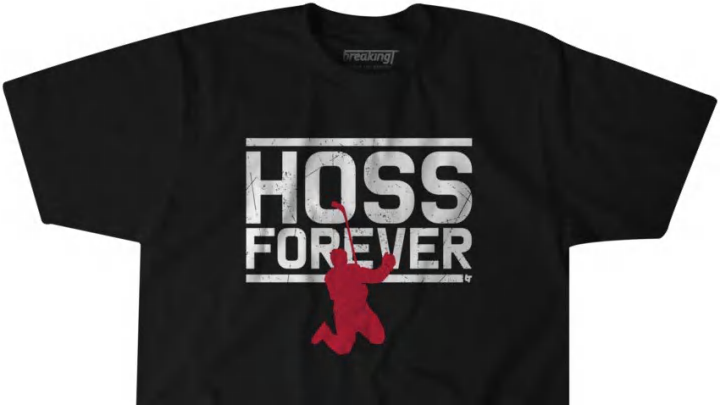 The trade of Marian Hossa means the Chicago Blackhawks are losing a local legend. But he'll be remembered forever with this t-shirt.
Earlier this week, the Chicago Blackhawks traded 39-year-old Marian Hossa. The move gave the team some much-needed cap flexibility, but it doesn't lessen the sting of officially losing Hossa.
After signing to a 12-year, $62 million deal in 2009, Hossa helped lead the Blackhawks to a trio of Stanley Cup trophies before unofficially calling it a career due to a skin disorder.
His play will never be forgotten in Chicago – and BreakingT is helping to immortalize him with a stellar new t-shirt.
Check out their newest design – which they're calling 'Hoss Forever,' below.
BreakingT /
When you play eight seasons and win three championships in a place, you're part of it forever.
Made on a premium lightweight crewneck (60 percent cotton, 40 percent polyester), this t-shirt features red and white graphics that really pop. It's a vibrant shirt that is a must-have item for Chicago Blackhawks fans.
This t-shirt is only available at BreakingT and retails for just $25, which is practically a steal.
If you're on the fence about this, you must not have ever purchased a BreakingT product before. Because if you had, you'd know this is a no-brainer. BreakingT shirts are high quality and made to last no matter what you throw at them.
They're soft, comfortable and fit perfectly. Plus, they look incredible. Unique and head-turning, a BreakingT t-shirt will have you looking great.
So don't wait. Order yours now to tell the world who you're rooting for.