Editorials
Chicago Blackhawks: Happy Thanksgiving From Blackhawk Up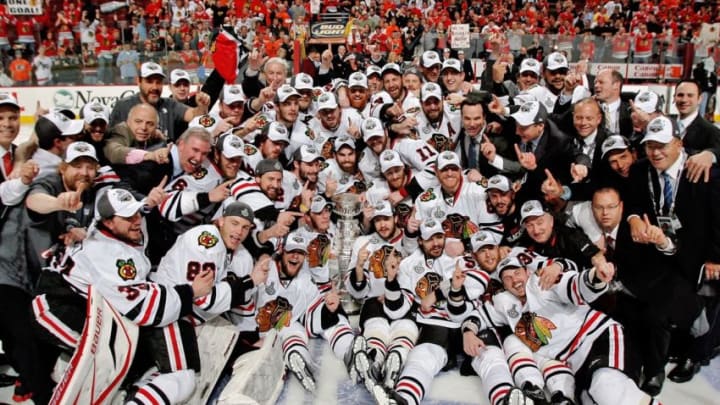 PHILADELPHIA - JUNE 09: Members of the Chicago Blackhawks celebrate winning the Stanley Cup after defeating the Philadelphia Flyers 4-3 in Game Six of the 2010 NHL Stanley Cup Final at the Wachovia Center on June 9, 2010 in Philadelphia, Pennsylvania. (Photo by Len Redkoles/NHLI via Getty Images) /
The Chicago Blackhawks have a day off on this wonderful Thanksgiving, so Blackhawk Up decided to do something special by sharing what each of us are thankful are in the world of Blackhawks hockey.
Even during the eight game skid which the Chicago Blackhawks experienced earlier during the season, there are reasons to be thankful in regards to this team. On Thanksgiving this year, a few of the fantastic writers at Blackhawk Up will share what they're most thankful for in regards to the team.
It's a been a difficult start to the year for all us Blackhawks' fans, but I cannot thank them enough for the impact they've had on my life. If anyone had told me 11 years ago that hockey would be such a huge part of who I am today, I would've said they're crazy.
But 11 years ago, I watched highlights on ESPN featuring two rookies on the Chicago Blackhawks named Patrick Kane and Jonathan Toews for the first time. I was so fascinated by their skill and talent that I decided to watch whatever games I could on national TV, despite living almost a thousand miles away from Chicago. I've been lucky enough to witness three amazing Stanley Cup-champion teams and a decade full of success.
I'm thankful for the Chicago Blackhawks organization as a whole, the sport of hockey and everyone who visits the site. The fans are what makes the stress of the game a little more bearable.
Happy Thanksgiving, everyone!
The one moment I'm most thankful for that the Chicago Blackhawks have given me, was Brent Seabrook's overtime winner versus the Detroit Red Wings in game seven back in 2013.
Now, what was one of the most electrifying overtime winners in the teams' history, meant a little more to me. Earlier that day, I remember staying home from school. My family had to put our dog of 13 years down because of a sudden cancer that had taken over her bladder. As a sophomore in high school, I was devastated. My best friend was gone, I had doubts that nothing, absolutely nothing could cheer me up.
That was, until the 16:25 mark of overtime, when Brent Seabrook charged through the blue-line and ripped a beautiful wrist shot past Jimmy Howard to send the Blackhawks to the Western Conference Final.
On a day where I was riddled with sadness, I was undoubtedly given some solidarity and happiness, knowing my favorite team had just beaten their biggest rival in a historical game seven.
Thank you, Brent Seabrook. Now, May 30th isn't such a terrible day as it would've been if you didn't step over that blue line and rip a beautiful glove-side shot.