Editorials
Chicago Blackhawks: Happy Thanksgiving From Blackhawk Up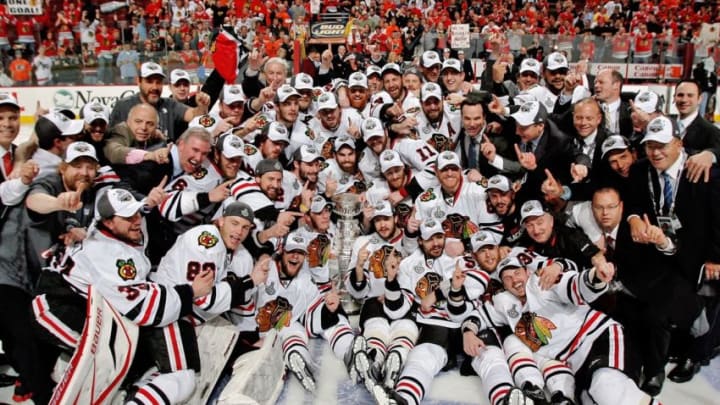 PHILADELPHIA - JUNE 09: Members of the Chicago Blackhawks celebrate winning the Stanley Cup after defeating the Philadelphia Flyers 4-3 in Game Six of the 2010 NHL Stanley Cup Final at the Wachovia Center on June 9, 2010 in Philadelphia, Pennsylvania. (Photo by Len Redkoles/NHLI via Getty Images) /
The Chicago Blackhawks' Jonathan Toews, left, and Patrick Kane celebrate on June 15, 2015, after eliminating the Tampa Bay Lightning in Game 6 of the Stanley Cup Final at United Center in Chicago. (Brian Cassella/Chicago Tribune/TNS via Getty Images) /
With this season seeming to have already ended and hope being drained quicker than, being thankful for anything in this Blackhawks organization should be difficult. But there is still much to be thankful for this year.
I am certainly thankful for a healthy Crawford and a successful return. A .922 SV% in 12 starts. I am thankful for a top-10 in the league in points Patrick Kane (25). An 18-point Jonathan Toews holding onto the number two spot on the team. I am thankful that Brent Seabrook (10 points) is contributing and in the top-10 in points on the team.
But most of all, I am thankful that St. Louis is the worst team in the division right now and not the Blackhawks. Sure, the Blackhawks are the 'easy' team right now. But the Blues are easier.
Happy Thanksgiving, everyone!
I'm grateful for the future.
I'm so excited to see Dylan Sikura and Victor Edjsell (hopefully) sometime this year. Next year's draft is going to be really great too. Chicago hasn't had a first round pick play immediately in the NHL since Patrick Kane in 2007. Overall, I'm excited to watch the team get younger and hungrier.
After Joel Quenneville was let go, I had to remind myself that change equals potential. Watching the team find new life through new superstars is going to be really exciting. Also, things could be so much worse. The team is only 3 years removed from its last championship. Perspective helps the growing process.
Oh and Corey Crawford, I guess.
Very grateful for him.