Editorials
Chicago Blackhawks: Happy Thanksgiving From Blackhawk Up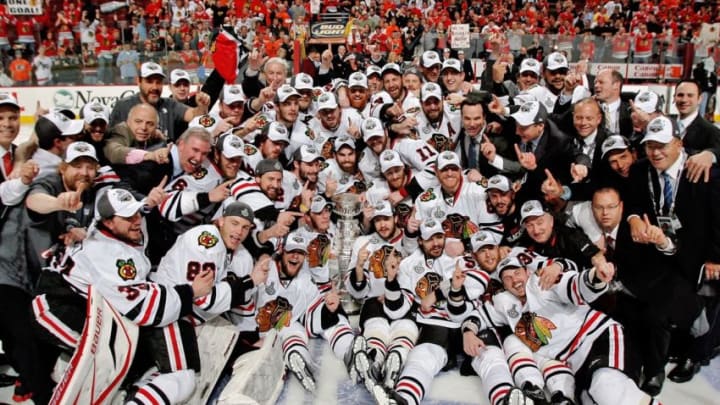 PHILADELPHIA - JUNE 09: Members of the Chicago Blackhawks celebrate winning the Stanley Cup after defeating the Philadelphia Flyers 4-3 in Game Six of the 2010 NHL Stanley Cup Final at the Wachovia Center on June 9, 2010 in Philadelphia, Pennsylvania. (Photo by Len Redkoles/NHLI via Getty Images) /
PHILADELPHIA – JUNE 09: (L-R) Brent Seabrook #7, Duncan Keith #2, Jonathan Toews #19 and Patrick Sharp #10 of the Chicago Blackhawks celebrate after the Blackhawks defeated the Philadelphia Flyers 4-3 in overtime to win the Stanley Cup in Game Six of the 2010 NHL Stanley Cup Final at the Wachovia Center on June 9, 2010 in Philadelphia, Pennsylvania. (Photo by Jim McIsaac/Getty Images) /
This year, I'm thankful for the 2007-08 Chicago Blackhawks. This team, to me, is better known as the hockey team which made me fall in love with the sport. Seeing Dave Bolland lay down one hit, Patrick Kane score one goal, Tuomo Ruutu force one takeaway, Dustin Byfuglien take one slap shot, Brent Sopel block one shot.
Take your pick of any of them. That's all I needed to be hooked.
After that year I led countless Blackhawks teams to the Stanley Cup in old NHL games. My dad and I destroyed the walls of our dining room playing floor hockey in between periods of the Hawks games. I'd play street hockey with my friends nearly every day imagining we were all going at it in the NHL.
We became season ticket holders and each game I'd hold up my Bolland jersey on the glass, and in turn he'd flip me a puck. I grew up seriously wanting to play professional hockey alongside Jonathon Toews and Patrick Kane. I'm 10 years younger, so I thought if I got drafted by 20, I could make the league by 22 while they were still in their early 30s and we could squeeze together one more cup run, right?
I thought I'd bring the Stanley Cup back to small town Indiana, visit my old schools, play some street hockey and eat with the cup at some local restaurant. As it turns out, the NHL doesn't send very many scouts to watch kids play street hockey (but if they did, there's no question Luke and I would've gone in the first round).
Unfortunately, my childhood dreams created by that 2007-08 Chicago Blackhawks team didn't quite come true. However, because of that team another dream has.
Though I don't play alongside Kane and Toews now, writing about them is pretty damn close. This year I'm thankful that the Chicago Blackhawks have never stopped bringing me joy since that 2007 season. There's been heartbreak, celebrations, pain, and a few more celebrations.
I wouldn't trade it for anything.
Oh, and I definitely wouldn't trade Artemi Panarin, either.
I'm thankful for that Chicago Blackhawks team which turns 11 this year because without them, you wouldn't be reading my writing right now. That, of course, brings me to my next reason to be thankful, the readers.
After all, without you guys we'd have no reason to write. Happy Thanksgiving, and let's go 'Hawks!
Thomas Keeney
As we reflect on things to be thankful for this season, here are a few related to the Chicago Blackhawks. As they are such a big part of my life, I'd be remiss to not give thanks.
Thanks to Rocky Wirtz for taking over the team. Without Rocky, there is no first class organization and there are no Stanley Cups. He embraced past icons and brought them back to the organization, supported local causes and focused the organization on the fans – the direct opposite of his Fathers approach, whose sole focus was on his wallet.
Thank you Rocky for bringing back pride in being a Chicago Blackhawks fan. Your vision and uncompromising standard of excellence has made all the difference.
My second thanks is a bit obscure, but a huge thank you to whomever designed the Blackhawk's sweater. It's the best best jersey in the league by far. I feel sorry for opposing fans forced to wear stupid looking garments to support their team. I'm very thankful to wear the crest of the Blackhawks.
By the way, can we have a third Black jersey back please?
Lastly, I'm thankful to the organization and all the people who make winning happen. Not just key contributors over the years like Dale Tallon who drafted Jonathan Toews and Patrick Kane and signed Patrick Sharp and Marion Hossa, but what a winning culture did to enhance fans lives.  Bringing families close again – bonding during a playoff run or running over to a friend's house just in time for the game is something we didn't have with the old 'Hawks.
We all remember where we were when Kaner netted that 2010 series winner, or the feeling we had when the 'Hawks scored twice in 17 seconds to win a Stanley Cup. The true blessing was not the winning per se, but that we all experienced it together.
Want your voice heard? Join the Blackhawk Up team!
Hanging out with the family became fun again. Spending time together and making new friends all while conversing about who's playing well or who should be traded is a blessing that cannot be repaid.
Thank you.