Chicago Blackhawks Mailbag: The Trade Deadline, Playoffs, and More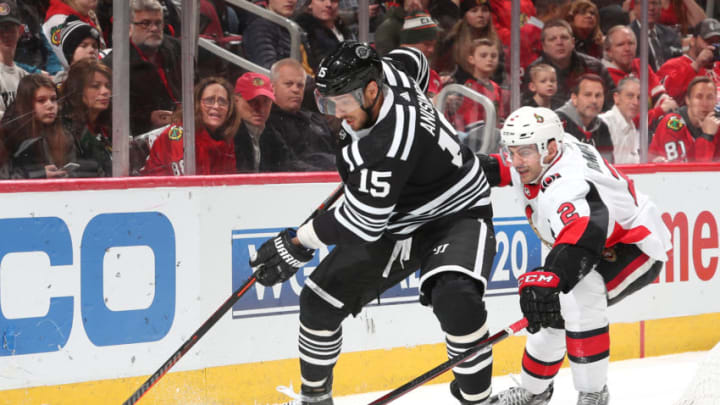 CHICAGO, IL - FEBRUARY 18: Artem Anisimov #15 of the Chicago Blackhawks and Dylan DeMelo #2 of the Ottawa Senators chase the puck in the second period at the United Center on February 18, 2019 in Chicago, Illinois. (Photo by Chase Agnello-Dean/NHLI via Getty Images) /
This week, we asked Chicago Blackhawks fans what questions they had about the team just a week out from the trade deadline. You asked and we answered. Here is the latest edition of the Blackhawk Up Mailbag.
Even though the Chicago Blackhawks are only 3 points out of a spot, do you think they still look to sell a piece or two at the deadline? – Chris (@FricanoChris)
Well, now they're only one point out of a playoff spot, which is honestly crazy considering the fact that they were last in the league just under two months ago. However, I do think the best thing the Chicago Blackhawks can do for themselves is to sell a couple of pieces.
Obviously, it's up in the air as to what those pieces are. There's been much speculation about multiple players on the team and what their futures may look like in Chicago.
A couple of weeks ago, there were reports of Duncan Keith and Brent Seabrook being asked if they would waive their no-trade clauses. Chris Kunitz and John Hayden's names were also thrown into the pit of possible players to be traded.
The Chicago Blackhawks have stayed pretty quiet since the Keith and Seabrook rumors circulated in the media and right now, no one really knows what they're going to do. But the market looks to be pretty thin right now and even though they're close in the standings, they should make as many guys available as possible.
Despite a recent seven-game win streak and improved record, the Blackhawks are still playing pretty bad hockey. They should definitely try to do the best they can to stay competitive, but big buyers they are not. Big moves need to wait until the offseason.