Chicago Blackhawks Mailbag: The Trade Deadline, Playoffs, and More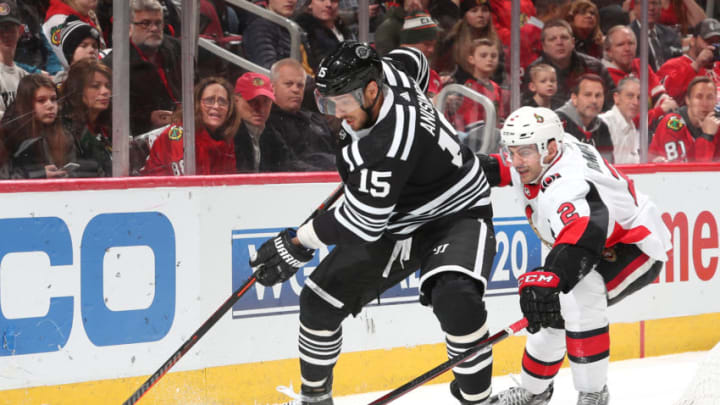 CHICAGO, IL - FEBRUARY 18: Artem Anisimov #15 of the Chicago Blackhawks and Dylan DeMelo #2 of the Ottawa Senators chase the puck in the second period at the United Center on February 18, 2019 in Chicago, Illinois. (Photo by Chase Agnello-Dean/NHLI via Getty Images) /
CHICAGO, IL – FEBRUARY 14: Artem Anisimov #15 of the Chicago Blackhawks reacts after scoring against the New Jersey Devils in the third period at the United Center on February 14, 2019 in Chicago, Illinois. (Photo by Bill Smith/NHLI via Getty Images) /
What's the least you'd accept to get Anisimov's contract off the books? – Phelim (@Phelim_Ohagan)
I think this question is one that needs to be brought up more and is something we need to ask ourselves regularly. Yes, we all know Brent Seabrook's contract is atrocious. But the one I dislike the most and could be more easily moved to increase the Chicago Blackhawks' cap space is the Artem Anisimov contract.
The thing I worry about is how many teams need a 30-year-old center that will make $4.55 million for the next two seasons after this one. Then again, if a team found value in Brandon Manning, someone could find value in Anisimov. He's a fairly stable third-line center with some offensive upside when paired with the right players.
I don't think I'd accept a ton to get Arty's contract off the books. The Blackhawks might have to retain some salary, and I think I'd be okay with that. Right now, I'd take just a third-round pick to get rid of him. That's probably the minimum for me and with the need for centers in today's market, I think it's somewhat reasonable.
One of the biggest issues with the Anisimov contract is that he has a modified no-trade clause that goes until the end of this season. Therefore, if the Blackhawks want to trade him prior to July 1st, they need to ask for his 10-team trade list or ask for him to waive it entirely so they have more freedom with what teams he can be traded to.
However, if I'm Stan Bowman, I try to be as simple as possible when it comes to possibly trading some players before next Tuesday's trade deadline. If you don't ask for the sun and the moon and let other general managers come to you with offers, more will get done that way and the Chicago Blackhawks could easily send a handful of players to contending teams.
Who do you think the 'Hawks will trade? – Krista (@KDobersch)
In the end, I have no idea who the Chicago Blackhawks will actually get rid of at the deadline. I don't even know if they're going to trade guys away by next Tuesday. Right now, it's a waiting game to see what might happen.
Instead, I'll mention who I think the Blackhawks should trade at the deadline and who they may want to get rid of in the offseason.
Starting with the deadline, the front office should definitely find a suitor for Chris Kunitz if they can. I know his stats are pretty bad this season and he's been healthy scratched so many times, but he's won four Stanley Cups. He's also been to the playoffs 13 times in his 15 seasons in the NHL, accumulating 93 points in 173 games. Many teams value a veteran who has a lot of experience in the playoffs, especially teams who aren't frequent visitors to the postseason.
Erik Gustafsson is the type of defenseman many teams value highly since it's often difficult to find puck-moving blueliners in the trade market. The Chicago Blackhawks definitely have a chance to sell high on him and there will be a ton of suitors out there looking to fill that need for an offensive defenseman on their back end. His $1.2 million cap hit that runs until the end of next season should appeal to almost every team in cup contention. I know the idea of trading Gus is unpopular, but the Blackhawks should at least explore it.
I've already mentioned Artem Anisimov, and he's an obvious candidate to be traded either at the deadline or in the offseason. Like I mentioned before, it's just a matter of finding a team that's willing to take that contract.
Any other moves made would probably be minor deals. Please don't take my word for it, though. The trade deadline is a circus and we have no idea what's going to happen. Everything up until deals are actually in place is simply speculation, but it's fun to get creative and have an open mind.