Blackhawks News
Chicago Blackhawks Mailbag: The Trade Deadline, Playoffs, and More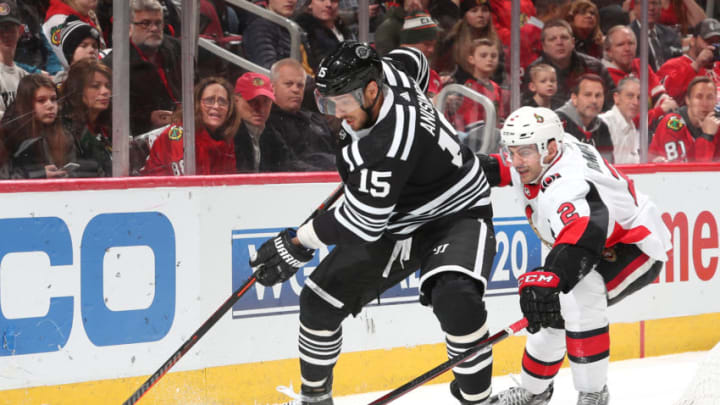 CHICAGO, IL - FEBRUARY 18: Artem Anisimov #15 of the Chicago Blackhawks and Dylan DeMelo #2 of the Ottawa Senators chase the puck in the second period at the United Center on February 18, 2019 in Chicago, Illinois. (Photo by Chase Agnello-Dean/NHLI via Getty Images) /
CHICAGO, ILLINOIS – FEBRUARY 18: Head coach Jeremy Colliton of the Chicago Blackhawks gives instructions to his team against the Ottawa Senators at the United Center on February 18, 2019 in Chicago, Illinois. The Blackhawks defeated the Senators 8-7. (Photo by Jonathan Daniel/Getty Images) /
What do the Blackhawks need to get into playoffs? – Oscar (@oscarmvp00)
With how bad and unpredictable the Western Conference has been this season, I have idea how many points the Chicago Blackhawks will need to make the playoffs.
Right now, they're one point out of a wildcard spot with 22 games left in the regular season. The Colorado Avalanche are above them in the standings despite having the same amount of points (59) as the Blackhawks because they have a game in hand. However, they're 2-5-3 in their last 10 games and have just five wins in their last 19 games.
The Minnesota Wild are also 2-5-3 in their last 10 games and are currently riding a four-game losing streak. On top of that, they just lost their captain Mikko Koivu to injury for the rest of the season. The Vancouver Canucks are also tied with the Blackhawks in points and the Arizona Coyotes are just two points back of them, despite having a plethora of injuries this season.
There are a few teams surging in the West, though. The St. Louis Blues have won ten games in a row and have taken the third place spot in the Central Division. They have 67 points, which is only six points back of Nashville and nine points back of Winnipeg. The Dallas Stars have also improved their play as of late with a 6-3-1 record in their last 10 games. They are in the first wildcard spot ahead of the Wild with 63 points.
While the Chicago Blackhawks are also hot as of late, they're nowhere near as good as a team like the Blues. They have many issues they still need to address and fix if they want to even have a chance if they do make the playoffs. Relying on your power play and goaltending will not solve all your issues.
All the Blackhawks can really do from now until the end of the season is play as well as they possibly can. They can't control what other teams do, only what they can do. We'll see what happens.
I have always wondered why they don't have TV cameras on both sides of the rink. – Holden (@customframingto)
Truthfully, I have no idea why they don't have TV cameras on both sides of the rink, too. I think about this at least once a week, though. I watch a lot of hockey games so I ask myself this question on a regular basis.
I believe it's because arenas are built a certain way where the press box and broadcast suites are all on one side of the arena. That's usually where all the cameras are. You'll typically notice other camera guys down at ice level on both sides of the rink. But with the way hockey arenas are built, they try to fit in as many suites for fans as possible and that's why all the media are located on one side of the rink.
This may be the correct answer or it may not be. This is just what makes sense to me. If anyone has legitimate insight into this, please let us know! I'm glad I'm not the only one who finds this interesting.
Want your voice heard? Join the Blackhawk Up team!
Thank you for all of your questions, Blackhawks fans! Our next bi-weekly mailbag tweet will be sent out next Friday! Let's go, 'Hawks!