All Time Blackhawks
Blackhawks Top 5 Best and Worst Playoff Moments in Toews-Kane Era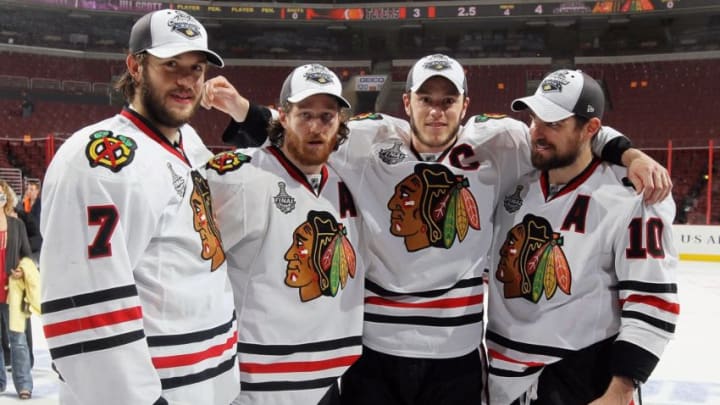 PHILADELPHIA - JUNE 09: (L-R) Brent Seabrook #7, Duncan Keith #2, Jonathan Toews #19 and Patrick Sharp #10 of the Chicago Blackhawks celebrate after the Blackhawks defeated the Philadelphia Flyers 4-3 in overtime to win the Stanley Cup in Game Six of the 2010 NHL Stanley Cup Final at the Wachovia Center on June 9, 2010 in Philadelphia, Pennsylvania. (Photo by Jim McIsaac/Getty Images) /
5: Failed Comeback in Vancouver
Climbing a mountain with snow blowing in your face and ice causing you to skip every other step can be compared to coming back in a 3-0 deficit. Chicago found themselves down 3-0 in 2011 against the Vancouver Canucks. The 8-seed Blackhawks were looking like an 8 seed team in the first few games, but something changed in Games 4-7.
The Blackhawks were looking competitive, and after a lengthy battle featuring OT games and penalty shots, Chicago found themselves in a Game 7 OT in Vancouver. The Hawks lost on this goal by Alex Burrows, just after Patrick Sharp missed a wide open net a few minutes earlier. Burrows' goal sent Vancouver on a playoff run bringing them to the Final and Chicago started their golfing for the summer.
4: Seabrook's Double Post
Losing to a rival is never easy. When Chicago found themselves down by just 1 goal in the 3rd period of Game 7, they needed someone to step up to the plate. Brent Seabrook took a larger than life snapshot from the point to tie the game up at 3. However, the Hockey Gods were nowhere to be found, as the shot hit both posts before bouncing away from the net.
Chicago would go on to lose the game and leave the title of defending Stanley Cup Champions for Pittsburgh to pick up later that season.
https://www.youtube.com/watch?v=x-ofCKsiTsw&t=2s
(The play comes at 3:35)
3: Hjalmarsson's Disallowed Goal
Hjalmarsson slays the Detroit Red Wings and sends the 'Hawks onto the next round, or so everyone thought. One of the worst moments of reffing in professional sports comes with under 2 minutes to play in Game 7 of Chicago vs Detroit in 2013. As we all know Chicago will go on to win the series in OT, but it still hurts remembering the game could have been over a lot sooner.
2: Nashville Wakes Chicago Up (2017)
The Blackhawks era of Toews and Kane success ended very abruptly in 2017. The top seeded 'Hawks lost to the wild card Nashville Predators in 4 games. Worse off the Blackhawks failed to score a goal on home ice in the series, getting shut out in both home games. I would have included a video of some of Nashville's highlights from the series but I believe the entire series is still ingrained in the memory of every Blackhawks fan.
1: LA 2014
I still remember where I was sitting when LA ended Chicago's season in 2014. The Blackhawks found themselves down 3-1 in the series and pushed back to force a Game 7 at home. Although the Blackhawks led the game going into the third period, the game would go to OT. It would end thanks to Alec Martinez's point shot.
The Blackhawks have won 3 Stanley Cups and made it to 5 Western Conference Finals during the Toews-Kane era. This amount of success is truly amazing. However, if it was not for Martinez goal in 2014, Chicago would have had another Stanley Cup to include in their collection. I know you shouldn't get greedy, but still, 2014 was almost the Blackhawks' year.
Okay, now you are free to carry on with your NHL draft speculations.