Chicago Blackhawks: 3 Replacements for Jeremy Colliton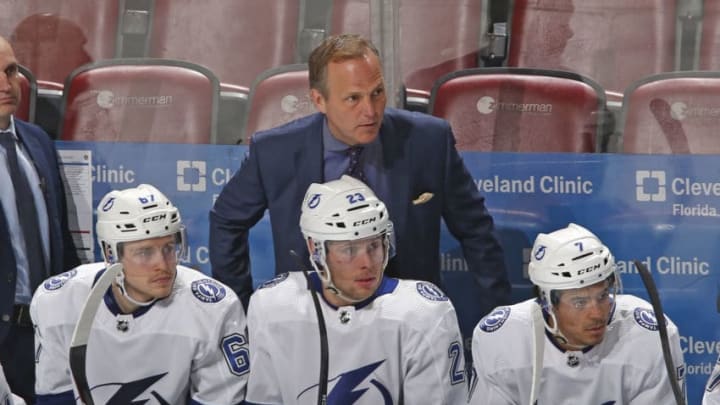 Chicago Blackhawks, Ken Hitchcock /
Ken Hitchcock (849-534-127), .599 winning percentage
Ken Hitchcock is a Stanley Cup-winning head coach who has been active since 1996. The only knock on Hitchcock is his age. Going into the 2020 season, he would be turning 69. At 69, he would be one of the oldest coaches in NHL history to take over a team.
Hitchcock wouldn't be a long-term signing. I could see him signing as a mid-year coach, who would then coach the team next season. He would work with the young players, and hopefully, generate some playoff success. In Hitchcock's long coaching career, he has only missed the playoffs five times.
Hitchcock is the only coach on this list who is a free agent. He could sign with the Blackhawks right now, if the team fired Colliton. That is the biggest reason he is on this list.
The only reason to sign Hitchcock would be if they fired Colliton mid-season. Hitchcock has the composer to come in and deal with that situation. As stated earlier, he isn't a long-term fix. I like his style and think he would fit well in Chicago.
Hitchcock is the third-most winningest coach in NHL history. He has the potential to build up this team, as he has done in years past. It would be interesting to see if he'd even take the job at his age.
Final Assessment
Of the three coaches mentioned, Hitchcock is the least likely. He would be good as a guy to take over the team mid-season and coach next year. The Blackhawks would need a replacement in mind if they hired him, due to his age. If Hitchcock coaches again, he will be back in 2020.
The home run choice is Jon Cooper. He is still very young and has been very successful. John Tortorella would be a close second for me. I like his style and his demeanor. He has won at three different levels.
The question is, would Tortorella's coaching style be a fit in Chicago and for how long? Will any of these three coaches change the culture of the Chicago Blackhawks, or will their words call on deaf ears?
Let us know in the comments what coach you'd like in Chicago. Are you pro-Colliton or anti-Colliton?