History
Chicago Blackhawks goalies have had some great masks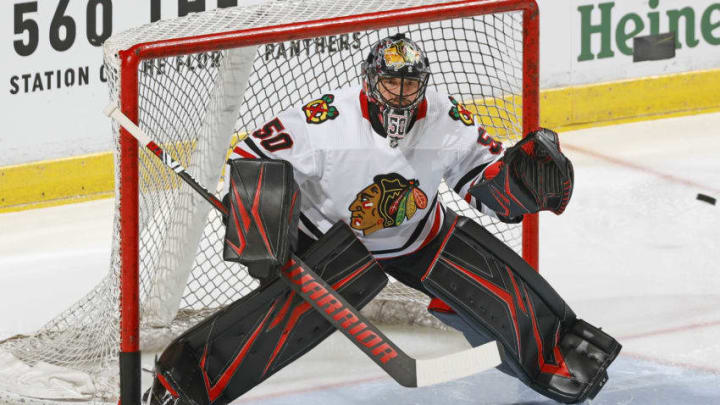 Corey Crawford #50, Chicago Blackhawks (Photo by Joel Auerbach/Getty Images) /
Murray Bannerman, Blackhawks (Photo by Graig Abel/Getty Images) /
Going back a little further in the time machine brings us to Murray Bannerman. He played for Chicago in the '80s and his mask looks like it fits the part. While not as terrifying as Skorodenski's, the full cover is pretty different from what we're used to seeing today.
When you see some of these goalies today take slapshots to the mask, you wonder, how did this position have almost no mask? Years prior, goalies didn't wear any mask.
When you think of a hockey mask, it's just white. Bannerman changed the whole landscape and added a lot to his.
That mask screams out Blackhawks.
During his career, Bannerman played all but one season with the Blackhawks. His rookie season he spent in Vancouver. I mean, he technically only played in one game there, so he wasn't a true rookie.
It took Bannerman a few years to touch the ice as an NHL regular. Like mentioned, his first start was during the 1977-78 season, he wouldn't play in the NHL until 1980.
Throughout his career, he had a 116-125-33 record. If there weren't ties back then, maybe he would have found himself with a winning record. Still, what a mask!