Editorials
Blackhawks: 5 Times Patrick Kane Fooled Goalies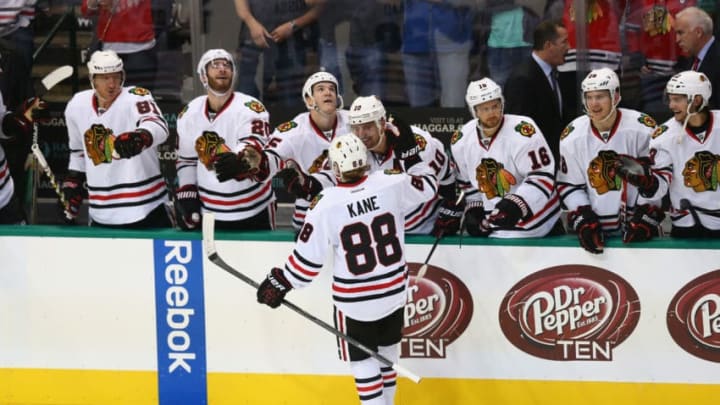 Patrick Kane, Chicago Blackhawks (Photo by Ronald Martinez/Getty Images) /
Patrick Kane, Chicago Blackhawks (Photo by Sean Rudyk/Getty Images) /
During the 13 year career for Patrick Kane, he's scored some amazing goals for the Chicago Blackhawks that have left goalies' heads scratching.
Patrick Kane vs Buffalo 2014
Since coming to the NHL, Patrick Kane has beaten up on his hometown team in Buffalo. He plays some of his best hockey against the team he grew up watching, along with other teams including the Avalanche.
"Growing up in Buffalo, I was definitely a big Pat Lafontaine fan. Joe Sakic was definitely one of my favorite players. I liked watching the Avalanche, so he and Peter Forsberg were some of the players I really watched. – Patrick Kane (USA Hockey Magazine)"
It's unknown on which team he liked better, Kane has changed his answer a few times in interviews. What I do know is this, Kane used to go to Sabres' games with his dad as a kid. If that's any indication to his favorite team.
A known fact is he is a Buffalo Bills fan. He's mentioned it in a few interviews involving football.
""It's hard not to like him to be honest with you. Even if you're a Bills fan, he's just an unbelievable athlete" – Patrick Kane (NBC Sports Chicago)"
Whether he likes the Bears or not is unknown. He's been to many games, sporting jerseys of the Bears. So, he's either a fan or just supporting the team because he plays for the Chicago Blackhawks and lives in the city.
Back to hockey, one of Kane's best goals was against the Sabres in 2014. He took the puck early in the game and pulled off a fancy move through the Sabres' defense, showing how dominant Kane is on the ice.
The graceful skater put the pucks in between the legs of Christian Ehrhoff, a future teammate of Kane's.
This goal is on the list for a few reasons. The first being this was the first goal I've ever seen live, which is fitting with Kane being my favorite player. The second reasoning how he just went thought Buffalo like they were no match for him. The final reason being how made Jhonas Enroth look like an amateur goalie.