Editorials
Blackhawks: 5 Times Patrick Kane Fooled Goalies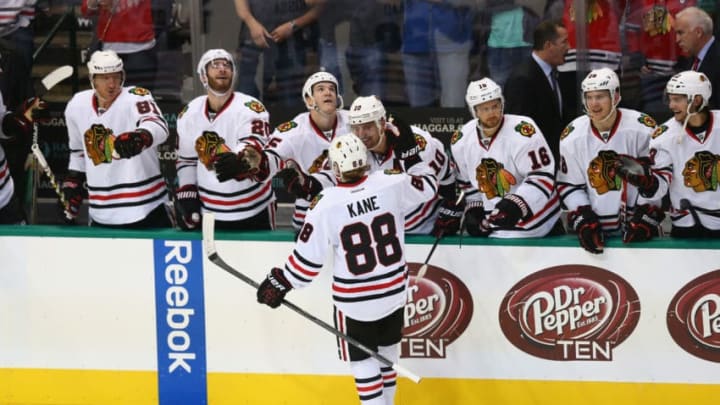 Patrick Kane, Chicago Blackhawks (Photo by Ronald Martinez/Getty Images) /
Patrick Kane, Chicago Blackhawks (Photo by Jim McIsaac/Getty Images) /
Patrick Kane vs Flyers 2010
""Kane.. walks by Kimmo Timonen. To the net… Leighton stopped him. Where's the puck? It came loose to the other side, It's over! Patrick Kane has scored the goal! The Chicago Blackhawks long drought is over. For the first time since 1961, the Chicago Blackhawks have won the Stanley Cup." – CBC (June 9th, 2010)"
The most chilling goal in Blackhawks' history is when Patrick Kane scored the Stanley Cup game-winning goal in overtime. It's something players dream about as a kid but never think it'll happen until it does.
Just imagine that, being the guy to score the Stanley Cup winning goal. It makes that player a legend for the rest of their life, even if they never do anything after it.
Kane would follow it up by scoring the second goal in the Blackhawks 2-0 shutout in Game 6 of the Stanley Cup finals in 2015 to win their third Stanley Cup in six seasons.
That's not bad for a kid that grew up in Buffalo, New York, who left home in his teens to live with Pat Verbeek and play hockey for a premier Triple-A hockey club. It's something Kane worked for since he was little, and he's changed the game so much over the last 13 seasons.
Kane, along with Jonathan Toews have made hockey relevent again in Chicago. Both of those players are why the Blackhawks continue to sell out every home game. This list is just a small sample size of Kane fooling goalies throughout his career. He can literally score from anywhere on the ice.