All Time Blackhawks
Chicago Blackhawks: Top 4 best two-way forwards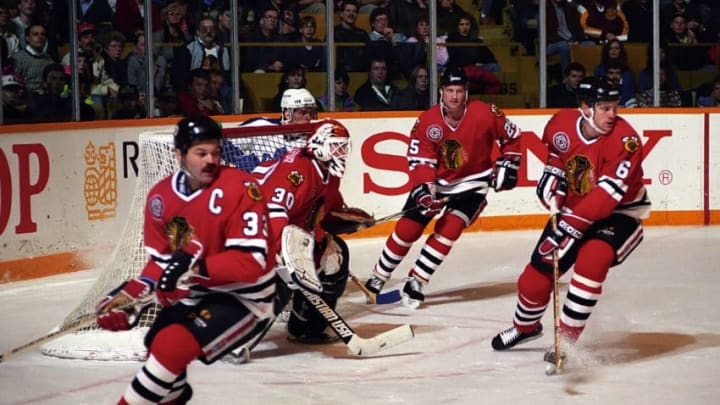 Dirk Graham, Chicago Blackhawks (Photo by Graig Abel/Getty Images) /
Joel Quenneville, Chicago Blackhawks (Photo by Christian Petersen/Getty Images) /
The Chicago Blackhawks have had some great players over the years, with the two-way forwards being most important during all of their Stanley Cup runs. Here are the four best two-way forwards of all time.
Hockey has evolved through the years, and one of the qualities that helps an NHL player stand out is being able to play well at both ends of the ice.
Every team has these players, and the Chicago Blackhawks are no exception. To pick out some of these players, I looked back over the years for players that spent the majority of their careers playing for Chicago and weren't known exclusively for their offense.
That means players like Patrick Kane, Jeremy Roenick, and Patrick Sharp didn't make the cut. Not because they aren't all phenomenal players, they most definitely are or were during their careers. However, since they mostly created offense they were left for another top four list.
What makes a forward a great two-way player?
There is no clear answer to this question, but there are a couple of things that should be considered.
First, do they spend time on the penalty kill? If a forward is relied upon in defensive situations then that says a lot about their abilities to stuff their opponent's goal-scoring.
Second, do they still manage to put up points? Some players have played a role defensively but maybe weren't the best goal scorers. In recent years, Marcus Kruger is a great example of this kind of player. He was extremely reliable defensively but was never a major contributor to the score sheet.
With that being said, here are some of the best two-way forwards of the Blackhawks, past, and present.