All Time Blackhawks
Chicago Blackhawks: Top 4 best two-way forwards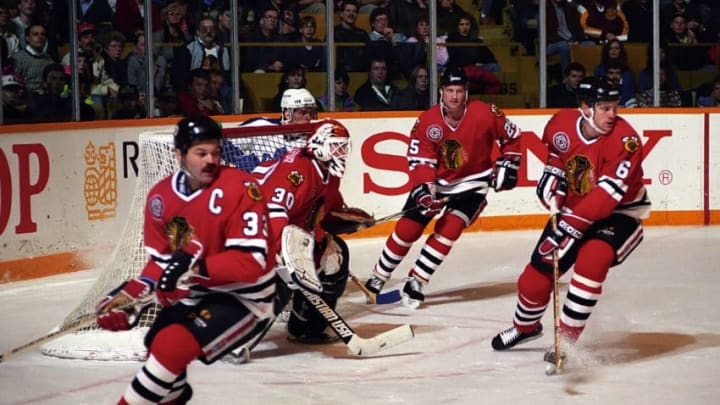 Dirk Graham, Chicago Blackhawks (Photo by Graig Abel/Getty Images) /
Marian Hossa, Chicago Blackhawks (Photo by Jonathan Daniel/Getty Images) /
1. Marian Hossa
"Wait, Marian Hossa beat out Toews? That didn't even happen for the Selke Trophy", you might be saying to yourself. You're right, Hossa didn't win the Selke, but only because he was robbed. Wingers never really win the Selke, and Hossa absolutely should have. He was a goal scorer and had 525 goals to his name before he was forced out of the game from a skin condition.
As much as people talked about his nose for the net, they spoke about his defensive skills just as much. While with the Blackhawks he spent just as much time on the penalty kill as Toews and scored 34 short-handed goals. The only Blackhawk with more short-handed goals than Hossa is Dirk Graham-number four on this list.
Hossa was so effective defensively that when his offense took a little dive, he was slotted into an almost purely defensive role.
In an NHL article about Hossa's defensive game, teammate Patrick Kane said,
""He just flies on the backcheck. There's a lot of guys that skate a lot faster going forward than they do coming back to their own end, and he's not that way," Kane said. "He's so good at stripping the puck. He's also good in these one-on-one battles where more often than not you're going to see him coming away with the puck."  – Patrick Kane (NHL.com)"
That's high praise considering the source but warranted.
What do you think? Any other contenders for best two-way forward for the Blackhawks? Let us know!