Analysis
Blackhawks: The story of the Stanley Cup Final's missing puck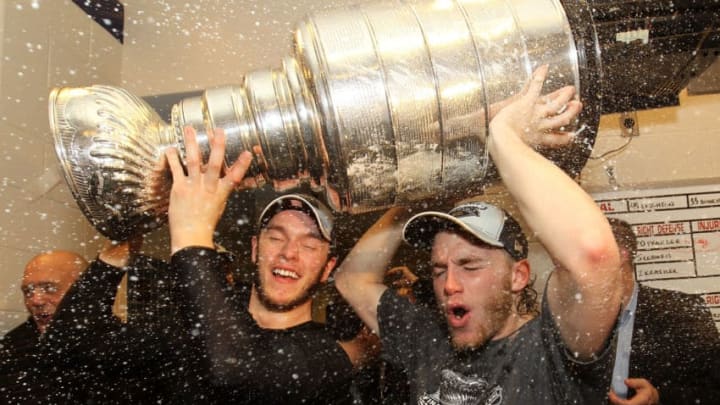 Patrick Kane, Chicago Blackhawks (Photo by Bruce Bennett/Getty Images) /
Steve Miller, NHL (Photo by Bruce Bennett/Getty Images) /
If not Pronger, then who?
For someone to steal the puck, they would have had to be on the ice when the goal happened, or at least when the puck was found. Looking back at the goal, there were 12 players on the ice, along with officials and linesmen.
If we look at the 12 players on the ice at that time, we have to get rid of all of the Blackhawks, as they went to celebrate with Antti Niemi.
The six Flyers were Kimmo Timonen, Darroll Powe, Simon Gagne, Braydon Coburn, James van Riemsdyk, and of course, Michael Leighton. There was never any proof or evidence brought forward that they had the puck, as they all left empty-handed after the handshake line.
What we see on camera is Leighton helping one of the linesmen find the puck in the net. Who was that linesmen? Steve Miller.
Who is Steve Miller? Miller was a linesman during that series. He is the last known person with that puck, on camera at least.
There were rumors that Miller took the puck and left with it. There was video footage of a fan, which showed Miller taking the puck off the ice with him. When the NHL was confronted with that news, they asked Miller and he claims he never saw or touched the puck.
How can he claim he never touched the puck if there's video proof?
Does that mean the NHL covered for him? I don't see why they would. I mean, this is some serious memorabilia that would fit great in the Hockey Hall of Fame.
Miller would go on and say this:
""Pucks don't mean anything to me." Miller said. "So why would that puck mean anything to me?""
I'll be honest, I don't buy that for one second. Anyone would love to have that puck, imagine the money someone can make years down the line for a piece of rubber.
The last rumor was the puck was sent to a pawn shop in Rockford, IL. The person who sold the puck for an undisclosed amount said he got it from a friend who was friends with two members of the Flyers ice crew.
Those two gentlemen were never named and the puck ended up being a fake once the F.B.I examined it.