Stanley Cup Playoffs
Blackhawks: 3 Takeaways from Game 4 win against Oilers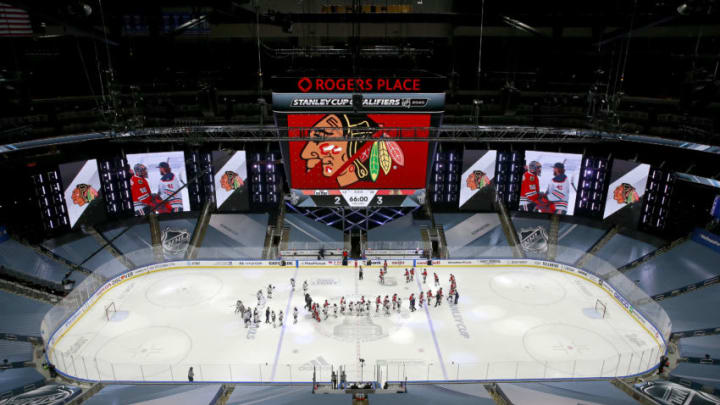 Chicago Blackhawks (Photo by Jeff Vinnick/Getty Images) /
Chicago Blackhawks, Corey Crawford, Connor Murphy, Duncan Keith (Photo by Jeff Vinnick/Getty Images) /
Second Takeaway: The Blackhawks Penalty Kill Finally Showed Up to Play
The Chicago Blackhawks had four penalties last night, and yet they did not give Edmonton a single power-play goal. Not only did the Blackhawks have four penalties but one of them was a five minute major to Alex DeBrincat for a hit he laid out in the second period.
You might have thought that the Blackhawks would have stopped playing or gave up but no they kept at it. I have never been more excited watching a penalty kill in my life as we watched the Blackhawks shut down the Oilers' power play in a setting where they could just keep scoring power-play goals and have no way to slow us down as DeBrincat earned a major. The Blackhawks played great for the first two and a half minutes of their penalty kill, and then things started to turn their way even more as the Oilers faltered.
Darnell Nurse decided to chase Drake Caggiula around the ice and put out a hit on him when he did not have the puck. That mistake cost the Oilers the majority of their major powerplay and really turned the game in the Blackhawks' direction.
I know our power play did not show up to play much last night, but our defense sure did. This entire contest, which saw the Blackhawks triumph over a team that looked so much better than them on paper, should show everyone one thing.