Stanley Cup Playoffs
Blackhawks: 3 Takeaways from Game 4 win against Oilers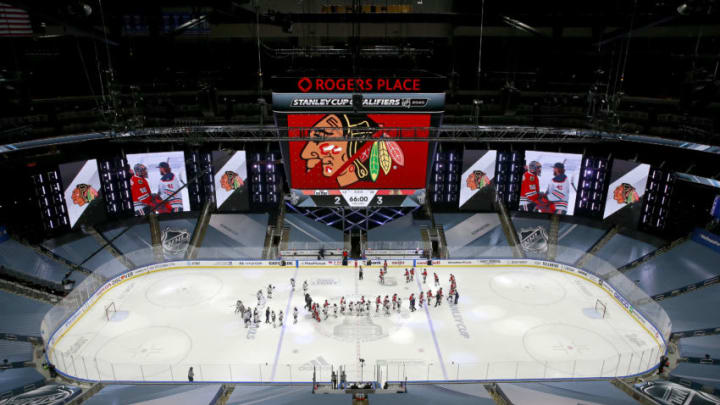 Chicago Blackhawks (Photo by Jeff Vinnick/Getty Images) /
Chicago Blackhawks (Photo by Jeff Vinnick/Getty Images) /
Third Takeaway: We are Here to Play
The Blackhawks are the real deal. We have shown that all though we were a number twelve seed going into this, that truly means nothing in the bubble. Every team is getting the same opportunity, and this is still true for whoever the Blackhawks face next.
Edmonton underestimated the Blackhawks, and it cost them a chance to play for the Stanley Cup on their home ice. Luckily for them, now they get to leave the bubble and go home, while also having a chance at the number one draft pick, but I think they would rather be in our position.
I am starting to see more and more people point out the fact that the Blackhawks just passed up an opportunity for the number one draft pick, and that they no longer are going to get a top ten pick. Well, guess what? We are going to have playoff hockey on our TVs again! This is the first time we are going to see our stars play in the playoffs since that upset series in Nashville.
We are here to play hockey, not roll over for any other team and the Blackhawks are just getting started!