Analysis
Blackhawks: 3 Takeaways from Game 1 loss against Vegas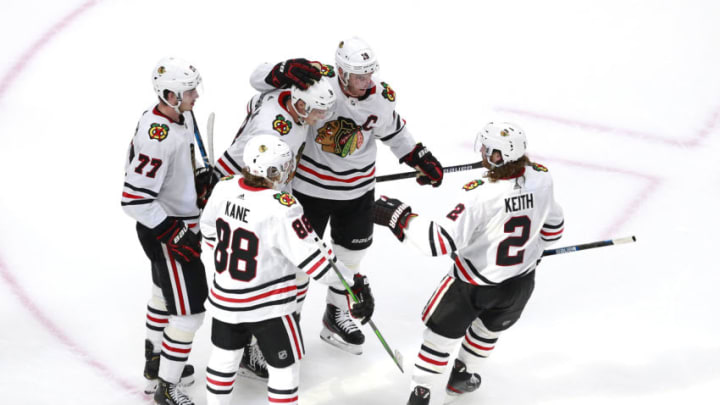 Chicago Blackhawks (Photo by Jeff Vinnick/Getty Images) /
Patrick Kane #88, Chicago Blackhawks (Photo by Jeff Vinnick/Getty Images) /
Lines Need To Be Looked At
Chicago's bottom-6 might need to be shaken up. The third line was mostly invisible against Edmonton, and it was more of the same against Vegas. It was worse for the fourth line. They spent entirely too much time in their defensive zone trying to recover the puck instead of driving playback towards Vegas' net.
It's great that Highmore had a couple of points against the Oilers, but there are two other players on that line. They need to show up, and not just by scoring points. There needs to be better puck management overall.
The fact that Kampf had a shorty was a relief, but the fourth line has to do a better job of recovering pucks and keeping possession.
It's not clear how Jeremy Colliton might handle the lines, but something needs to give. Unfortunately, there aren't many options for Chicago that would turn the tide in their favor.
They tried John Quenneville when Caggiula was suspended for a game, but that didn't work out. There are other players, but it's not clear if they would be improvements. Both Dylan Sikura and Brandon Hagel played during the regular season for Chicago, but is throwing them into the mix for the playoffs the best option?
That might be a big ask for players that haven't proven themselves in the NHL yet.
Regardless, something needs to change, even if it's just a small tweak in tactics.