Analysis
Blackhawks: 3 Takeaways from Game 1 loss against Vegas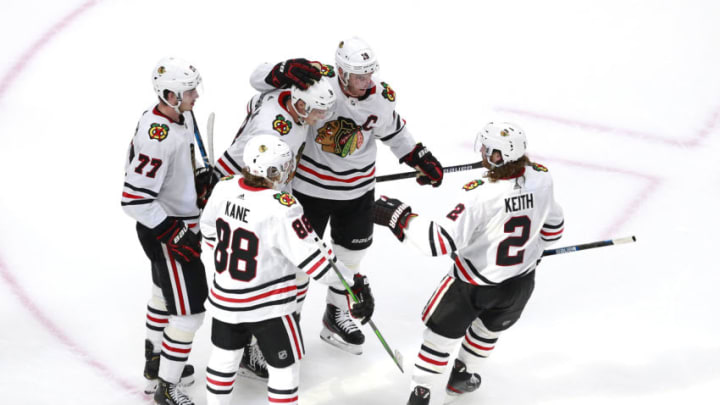 Chicago Blackhawks (Photo by Jeff Vinnick/Getty Images) /
Dominik Kubalik #8, Chicago Blackhawks (Photo by Jeff Vinnick/Getty Images) /
Capitalize On Scoring Chances
Whatever you think about Robin Lehner, he coughs up a lot of rebounds. The scoring chances are there, but Chicago will need to get in his face.
If they need to score some ugly goals by fighting for space in the blue paint, so be it. Scoring doesn't need to be pretty, it just needs to be in behind the goalie. This is why players might just need to just crash the net.
Maybe they'll get a goal, and maybe they'll just bother Lehner. It doesn't matter, Chicago has players that they need to get going. Get in Lehner's face, get in Lehner's head.
Raining long-distance shots down on goal, and gritty play right in front of the net. It can be tedious to watch a play like this, but if this is what Chicago has to do to get their chances, so be it.
Sadly, this is where Chicago misses having Andrew Shaw. These kinds of ugly, greasy goals are where he would help out. There aren't many Shaw replacements in the 31-player line up either.
Someone else is going to have to step up and capitalize on the opportunities Lehner is giving up. The first person that should come to mind would be Drake Caggiula, but it could be anyone.
Chicago needs a better net-front presence. Maybe a player like Hagel gets a shot to give the team a different approach. Maybe they throw in Mackenzie Entwhistle.
Whichever player(s) are chosen for the task, they have got to get people in front of Lehner to fight for those rebounds.