Blackhawks: Three Ways Kirby Dach Can Improve His Game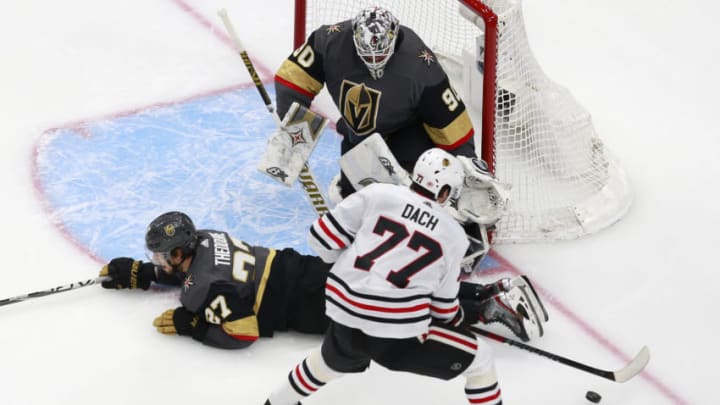 Kirby Dach #77, Chicago Blackhawks (Photo by Jeff Vinnick/Getty Images) /
Kirby Dach #77, Chicago Blackhawks (Photo by Jeff Vinnick/Getty Images) /
The Chicago Blackhawks will need Kirby Dach to come back better than ever next season, and there are a lot of ways he can improve.
Kirby Dach is no longer a rookie in the NHL. He officially has a year under his belt in the league, and if he is going to be one of the team's best forwards for years to come, then he is going to have to step up his game.
Kirby Dach has shown so far that he is a steal for the Blackhawks with where they got him in the draft. However, they will need to see more of Dach at his best next season if that statement is going to remain true.
Kirby Dach finished his rookie season with 23 points in 64 games with the Blackhawks. He also played in all nine of the Blackhawks playoff games this postseason, where he put up six points in nine games. Dach also saw his ice time increase this postseason as he started to show that he can be a difference-maker for the team.
It was great to see Dach succeed, but now he needs to take a step forward next season. An NHL career is not just one season. Dach needs to come out next year and continue to step up and become a better player; otherwise, we can forget about the playoffs for next year. So, let's discuss a few assets of Kirby Dach's game that he can improve heading into next season.