Editorials
Former Chicago Blackhawks that are still without a contract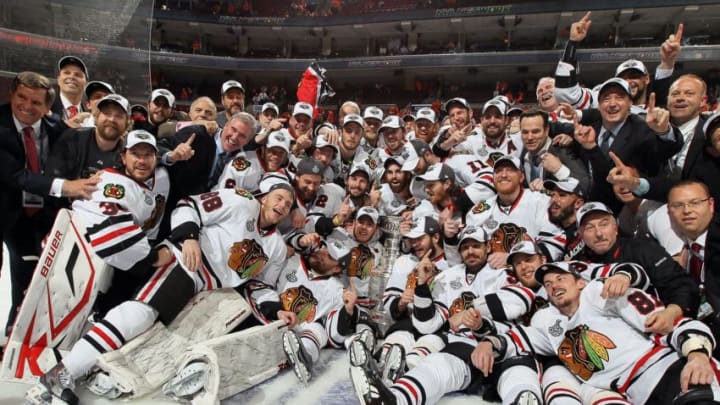 Chicago Blackhawks (Photo by Jim McIsaac/Getty Images) /
Dustin Byfuglien, Chicago Blackhawks (Photo by Jonathan Daniel/Getty Images) /
Speaking of physical play, there is one guy that instantly comes to mind for Blackhawks fans.
Dustin Byfuglien was an integral part of the 2010 Stanley Cup Championship, and even now, almost a decade after his departure from Chicago, he remains a fan favorite.
Although he is thought of in his more recent years as a big-hitting, somewhat controversial defenseman, Big Buff's career began with big offensive numbers to match. He scored a handful of big playoff goals for the 'Hawks and ended his five seasons in Chicago with 109 points.
Byfuglien quickly became beloved by the fans both for his feisty, tenacious play and his fierce rivalry with the Vancouver Canucks, in which taunting the opposing team became a regular job for him. Big Buff is perhaps the one player that I was most sad about seeing go after the 2010 season, and I believe that his physicality would've helped the team tremendously in 2011.
He was traded to the Atlanta Thrashers, and his game really took off when the team relocated to Winnipeg. He's put up 416 points in nine seasons with the Jets, although he has tailed off a bit and was even suspended for failing to show up to training camp.
Even at 35, Byfuglien has proven that he could still be an extremely valuable commodity. A number of teams are reportedly interested in him.
One of the teams is supposedly the Vancouver Canucks. While it would be an awkward jersey to see Big Buff in, perhaps he will eventually be able to break back into the NHL, because fans of the big man will surely be happy if he does.